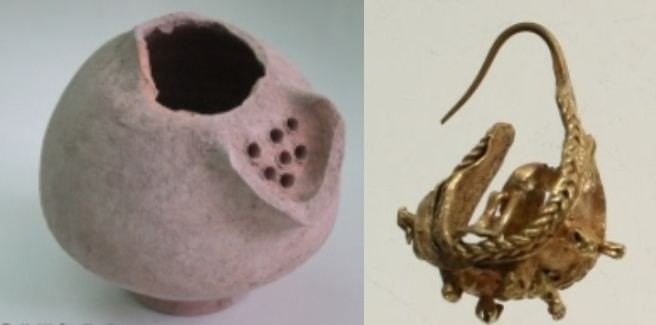 Archeologists in Israel have unearthed a rare treasure trove containing jewelry believed to be around 3,000 years old.
The treasure was found near the ancient city of Megiddo inside a ceramic jug which includes golden ring, earrings and beads. According to the New Testament, this would be the place where the final battle of Armageddon would be fought.
According to an Associated Press report, the archaeologists who unearthed the jug during excavations at the site in 2010 left it in a laboratory while they waited for a molecular analysis to find out the inside contents. When they were finally able to clean it, pieces of gold jewelry - a ring, earrings, and beads - dating to around 1100 B.C. came out.
"We can guess that it was a rich family, probably belonging to the ruling elite," said Israel Finkelstein of Tel Aviv University after the find offered a rare glimpse into ancient Canaanite high society.
Finkelstein, who co-directed the dig, reportedly said that the jewelry found inside the jug suggested the possibility of it being hidden by the owner.
In a statement, the archeologists mentioned that the objects were either owned by Egyptians living in the area or inspired by the Egyptian style of the period.
Tel Aviv University called the trove "among the most valuable ever found from the Biblical period," adding that one piece in particular, a gold earring decorated with molded ibexes, or wild goats, is "without parallel," according to an Associated Press report.
Megiddo or Tel Megiddo is an ancient fortified city and is one of the most famous battlegrounds in the world. Historians believe that more battles were fought at this location than anywhere else on earth.
According to the New Testament book of Revelation, Megiddo will host one of the world's major armies in an immense conflict between East and West.