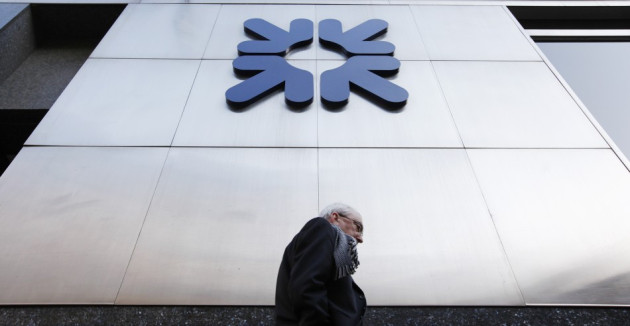 Royal Bank of Scotland shares fell heavily in London after a report suggested the state-owned bank was being pressed to accept criminal charges alongside a $500m fine for its alleged role in libor manipulation.
RBS shares fell more than 6.5 percent in London Tuesday, the most in at least six months, after a Wall Street Journal story claimed the bank could reach a deal with US and UK regulators on Libor as early as next week but that executives are reluctant to admit criminal wrongdoing as it would open up the state-owned lender to new litigation risks.
The shares were trading at 344.3 pence each by mid-afternoon London time, trimming the one year advance to around 28.6 percent.
Investors have been anticipating a record fine for the British bank for several months following a two-year investigation into rate manipulation. Parallel to the negotiation of the fines are reports that two senior executives within RBS could be asked to leave the bank as a result of the investigation and settlement. The misconduct was expected to have occurred between 2007 and 2010. However, the BBC has reported that chief executive Stephen Hester, who replaced former boss Fred Goodwin in 2008, will not be fired.
RBS, which is 83 percent owned by the UK taxpayer, would be the third bank to reach an agreement over libor failings, after Barclays and Swiss bank UBS, which paid around $1.5bn to regulators in the UK, the United States and Switzerland last month. More than a dozen other global lenders are said to be under investigation.
Switzerland's biggest bank also said it had pleaded guilty to one count of wire fraud with the US Justice Department in relation to rate manipulation in the market for yen libor.
The UK's Financial Services Authority agreed to a fine of £160m, while fines paid to the US Commodity Futures Trading Commission and the US Department of Justice will amount to around $1.2bn the bank said. Finma, the Swiss regulator, collected a fine of 59m Swiss francs.
The FSA said it found at least 2,000 documents showing attempts to manipulate the benchmark interbank lending rate, which underpins around $500tn worth of global financial securities.
Hester told reporters in November that he would be "disappointed" if he wasn't able to draw a line under the libor scanal by the time the bank delivers its full-year earnings in February. Hester said it would be a "miserable day in RBS history" regardless of the size of the fine or the breadth of the bank's role in libor manipulation.
At least four former traders have been sacked by RBS for their role in the rate-rigging and suspended its head of rates trading for Europe and Asia.
RBS has also set aside around $1.7bn to compensate customers who were mis-sold payment protection insurance and to small businesses mis-sold interest rate derivatives, the bank said in its third-quarter earnings statement.
Collectively, the British banking industry will pay more than £11bn in total compensation for the two practices.