Real Life Barbie Doll Valeria Lukyanova in Sexy Photoshoot for V Magazine
Living Barbie doll Valeria Lukyanova is back in the news. The 21 year old Russian model shot to fame earlier this year, after she was declared a real life Barbie doll. Lukyanova's blue eyes, blonde hair and slender frame earned her several flattering comparisons to the iconic Barbie doll - a children's toy that first appeared in the 1960s and has since become a global and cultural phenomenon, spawning an entire industry of accessories.
At the time (in April), Lukyanova garnered both praise and critical comments, with some attacking the notion of calling herself a "doll" and others criticising reports the young woman had resorted to several expensive sessions of cosmetic features to sculpt the Barbie-likeness. Lukyanova is back in the spotlight now though. She has posed for her first magazine spread and, as one would perhaps expect, the photo shoot is in some very racy lingerie.
The shoots, for V magazine, were done in New York City and taken by Sebastian Faena, and the edition with Lukyanova is to hit the stands on 15 November. Meanwhile, Lukyanova spoke on several aspects of being a real life Barbie, in her interview with V, starting with her take on the negative press.
"No. I know the other side of celebrity is negativity, but I see it in a positive light. If people care about me, then I am on the right path. In real life, I never hear bad things," Lukyanova explained, adding, "Many people say bad things about people who want to perfect themselves. It is hard work, but they dismiss it as something done by surgeons or computer artists. This is how they justify not wanting to strive for self-improvement. It's how they explain their continued inaction. It's just an excuse."
Lukyanova, who describes herself as a professional mountain climber and a fan of extreme recreation and adrenaline, also admitted to an interest in the metaphysical. She claimed to have "written most of my songs during my astral travels or during meditation. The questions of what we are and why we exist have interested me from my earliest childhood".
Check out photographs from Valeria Lukyanova's photo shoot for V magazine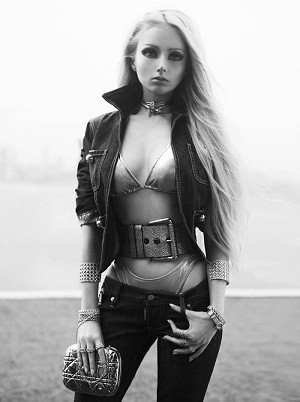 © Copyright IBTimes 2023. All rights reserved.