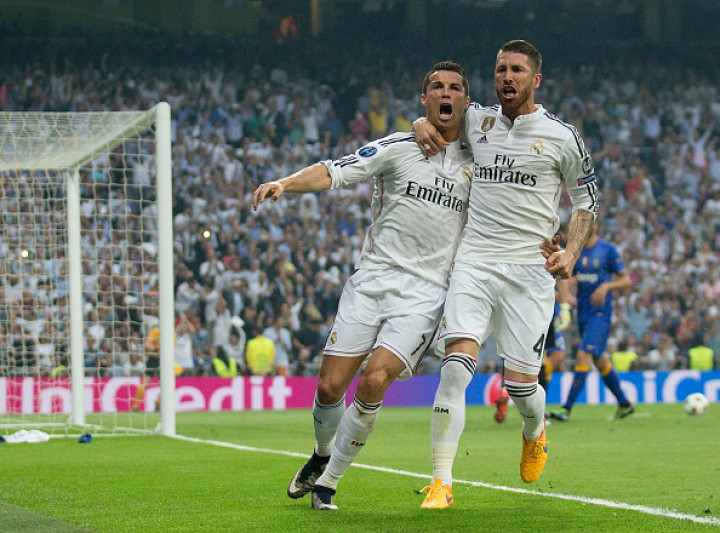 Real Madrid have been named the most valuable sports team on the planet for the third successive year by Forbes magazine.
The Spanish giants captured their landmark 10th Champions League crown last year and are worth £2.09bn (€2.98bn, $3.26bn).
NFL team Dallas Cowboys and MLB baseball outfit New York Yankees are joint-second with both teams valued at £2.05bn on the Most Valuable Sports Teams 2015 list.
Madrid's fierce rivals Barcelona dropped to fourth from second spot in 2014 at £2.02bn, while Premier League club Manchester United (£1.98bn) also slipped two places to come in fifth.
Of the other Premier League clubs, Manchester City are the second-most valuable - but ranked 29th overall - at £890m, followed by Chelsea (£877m) at 31st and Arsenal (£839m) at 36th.
Forbes said the world's 50 most valuable sports teams are worth £1.12bn on average, a 31% increase from last year.
American sports teams take up 42 of the 50 places in the 2015 list, with the NFL being the best represented competition with 20 franchises.
Separately, Forbes said Barcelona and Real are the most popular sports teams measured by the number of followers on social media, with the clubs having a combined 200 million fans on Facebook and Twitter.
Barcelona have the most number of followers on Facebook at 85.4 million after a historic season in which the Catalan club claimed an unprecedented second treble of the La Liga title, the Copa del Rey and the Champions League.
The five-time European champions are also followed by 15.5 million people on Twitter, taking the total number of their social media fans to 100.9 million.
Real Madrid - represented by a galaxy of stars including Cristiano Ronaldo, Gareth Bale and James Rodriguez - have 99.8 million fans, including the most number of Twitter followers at 16.5 million.
The Premier League is well represented in the list with Manchester United at third (70.9 million followers), Chelsea fourth (48.7 million), Arsenal fifth (39 million), Liverpool seventh (30.3 million) and Manchester City tenth (21.8 million).
The sole non-football sports team in the top ten is the NBA basketball team of Los Angeles Lakers, which came in at ninth with 25.6 million followers.