Joachim Loew has assembled the most valuable team at this year's world cup after a study found his Germany team was worth £641m.
Spain was the second most expensive at £590m with England's £550m ranking third most valuable, a study by insurance giant Lloyd's has estimated.
Bottom of the table is Costa Rica, which has an insurable value of just over £18m.
The study, which was conducted alongside the Centre for Economics and Business Research (Cebr), used factors including players' wages and endorsements to estimate players' incomes until retirement.
Cebr then used the projections to assess insurable values by player age, playing position and nationality.
Tournament hosts Brazil, whose squad commentators say is one the weakest national ones in recent times, was the fourth most valuable at £448m, bolstered by the value of Barcelona forward Neymar.
The figures, Lloyd's believes, points to a Germany win in Brazil this summer. The insurance market calculated the total collective value of the 32 teams at about £6.2bn.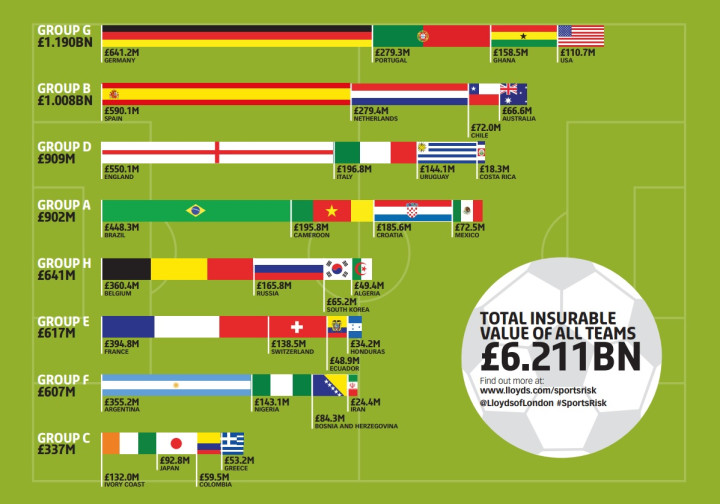 Researchers were also able to use teams' values to work out which of the eight World Cup groups was the most valuable with Germany's group G ranked top at £1.19bn.
Group D, which features England, Italy, Uruguay and Costa Rica, had an estimated value of £909m.
Marco Castro from Lloyd's Brazil said: "It is incredible to see how much some of the teams playing in Rio are worth – the top three, Germany, Spain and England - are worth more than £1.7bn collectively. This is more than the bottom 20 teams combined.
"The predicted insurable values also clearly show which groups should be trickier to qualify from than others – and it's far from a level playing field."
World Cup teams' values
Germany £641.2m, Spain £590.1m, England 550.1m, Brazil £448.3m, France £394.8m, Belgium £360.4m, Argentina £355.3m, Netherlands £279.4m, Portugal £279.3m, Italy £196.8m, Cameroon £195.8m, Croatia £185.6m, Russia £165.8m, Ghana £158.5m, Uruguay £144.1m, Nigeria £143.1m, Switzerland £138.5m, Ivory Coast £132m, USA £110.7m, Japan £92.8m, Bosnia-Hercegovina £84.3m, Mexico £72.5m, Chile £72m, Australia £66.6m, South Korea £65.2m, Colombia £59.5m, Greece £53.2m, Algeria £49.4m, Ecuador £48.9m, Honduras £34.2m, Iran £24.4m, Costa Rica £18.3m.