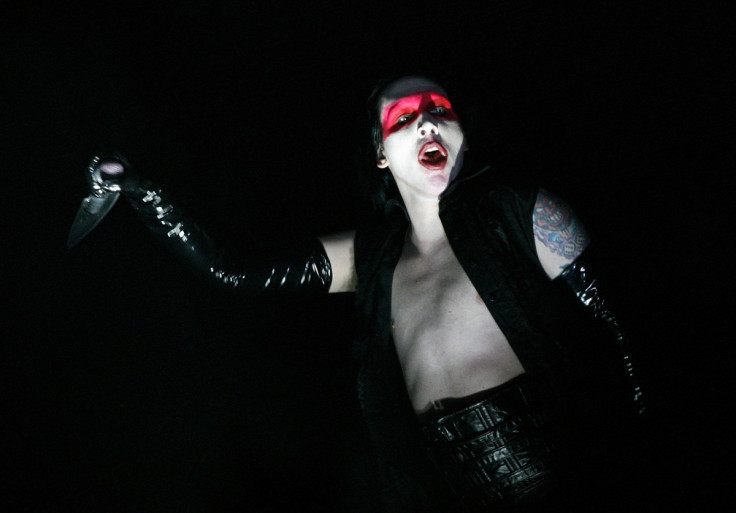 Marilyn Manson has opened up about a run-in with Justin Bieber that has left a bitter taste in his mouth. The rock star doesn't have anything words to say about the pop icon as he found the latter to be arrogant during their encounter at a Los Angeles hotspot.
Speaking to Billboard, Manson – whose 10th studio album is due out next month – said that the Sorry singer acted like "a real piece of s**t" when he told him that he had used his image without his consent in the singer's Purpose tour merchandise in 2016.
"I ran into him in some fancy bar where a lot of celebrities – a word that I despise – go. I saw a little girl in a pink hoodie with blond hair, and it turns out to be Bieber," he told the music website.
"I sit down, and I say, 'Hey, so you wore my shirt and everything onstage'."
"He was one of those touchy people that hit you when they talk, and he comes up to about d**k height. Then he goes, 'I made you relevant again'."
Manson then said that he replied to Bieber's arrogance with a flat-out lie and had a bit of fun at his expense. "That was a great idea you had about doing 'The Beautiful People' at your show at Staples Center tomorrow. And he goes, 'Yeah, it was,' not knowing that I told him an idea that I had just made up," the 48-year-old said.
"His tour manager sat down, and I asked, 'What time is sound check tomorrow? What time should I be there? Because we're going to do Beautiful People.' Obviously, when 4pm rolled around the next day, I just didn't show," Manson revealed.
Bieber even had to compensate the Sweet Dreams singer for using the latter's image, which Manson said would never have happened if he hadn't made the "I made you relevant again" comment.
"It was nice though that I didn't have to sue his company for making the shirts that he wore with his name and my face on it. They were very much like, 'We know we're wrong here. Just take as many dollars as you want.' So it was a double 'f**k you', but it wouldn't have happened if he hadn't said, 'I made you relevant again'."