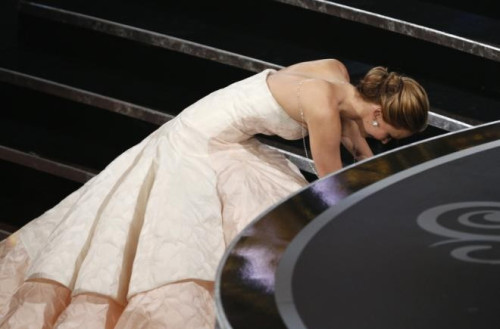 Jennifer Lawrence finally revealed the real reason behind her tumble at the 2013 Oscar ceremony. The American Hustle actress tripped while going up to receive her award for best actress. Apart from her stellar performances in films, that Oscar moment played a big part in catapulting her to fame.
"I was at the Oscars, waiting to hear if my name was called, and I kept thinking, Cakewalk, cakewalk, cakewalk," says Lawrence, as per a Hypable report.
"I thought, why is 'cakewalk' stuck in my head? And then, as I started to walk up the stairs and the fabric from my dress tucked under my feet, I realized my stylist had told me, 'Kick, walk, kick, walk.' You are supposed to kick the dress out while you walk, and I totally forgot because I was thinking about cake! And that's why I fell."
Lawrence is sure to be extra careful regarding her on-stage antics this time around as the award season starts. She has also been conformed as one of the hosts for the 2014 Golden Globes.
Lawrence was recently in the limelight for saying that it should be "illegal to call someone fat on TV", reports The New Zealand Herald. Hitting back at the jibe, Comedienne Joan Rivers (from the celebrity show Fashion Police!) called Lawrence a hypocrite and said,"My New Year's resolution is [ensuring] Jennifer Lawrence grows up and realises how lucky she is and calms down," she told the New York Post, before adding: "I love that she's telling everyone how wrong it is to worry about retouching and body image, and meanwhile, she has been touched up more than a choir boy at the Vatican."
Lawrence's performance in the recently released American Hustle garnered rave reviews. Her upcoming films include X-Men: Days of Future Past which is set to release this May and The Hunger Games: Mockingjay, Part 1 scheduled for a November release.