A garden in the Southmead area of Bristol has been dug up in connection with the disappearance of missing teenager Rebecca Watts.
Police and forensic teams searched the semi-detached property, five miles away from her home, as the hunt for the missing 16-year-old intensifies. The teenager, known to her friends as Becky, vanished from her home in the St George's area of Bristol on February 19.
She was reported missing by her family at 4pm on 20 February. She is said to have left without telling friends or family and did not take any spare clothes. The only items believed to be in her possession were her laptop, phone and her tablet computer.
Neighbours told the Bristol Post that the house was privately rented by a family with two young children. Forensic teams have conducted a detailed search of the two-storey house and yesterday afternoon were seen scouring through the boot of a black, Vauxhall Zafira. The vehicle had reportedly been on the street for more than a week, but does not belong to any local residents.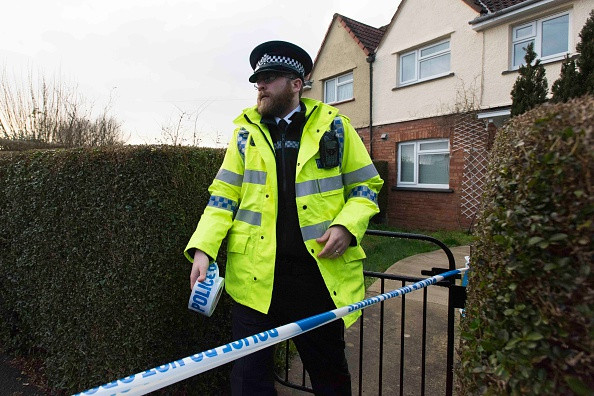 On Saturday (28 February) gloved forensic officers were seen removing a large, heavy drum from the student's home, just hours after police announced they have arrested two people in connection with the teenager's disappearance. Four officers were seen lifting the object into a police van before it was taken away.
Six specialist teams with officers from four counties are now searching locations within a 1.6-mile radius of her Bristol home - as well as sites surrounding the city, however, no significant items have been found.
It had been hoped that the discovery of the laptop in woodland, not far from her home, could be a breakthrough in the case - but it has now been discounted. The computer was found when around 200 family and friends of the teenager carried out their own search.
The leading officer in the case, Detective Superintendent Liz Tunks, said: "Firstly, I would like to reiterate my message yesterday that our search for Becky continues unabated and we are using all available resources to find her. Secondly, I would like to extend my thanks to the local communities in St George and the wider Bristol area who have assisted with our search efforts so far.
"The sheer number of people who have shown support during the public searches has been incredible. I would ask that all planned public searches are coordinated through us so they dovetail with the extensive search operation we have been running."
Becky's father and step-mum, Darren and Angie-Mae Galsworthy, have released a statement saying they are preparing "for the worst". Her father Darren Galsworthy, 51, and step- mother Angie-Mae, 49, said in a joint statement: "The police have told us today that two people have been arrested in connection with the disappearance of Becky. Rebecca has still not been found. We continue to hope that she will be found safe and unharmed but we will prepare ourselves for the worst."
Her uncle Joe Galsworthy - who arranged public searches on Wednesday and yesterday - said the family were still hoping to find her 'safe and well'.
"The only thing we know about the arrests is that they were made in St George. We don't know who or why they arrested them. The arrests were not as a direct result of today's search but both searches have been successful in finding items which police have taken to analyse. Whether they're related to Becky or not we don't know as of yet," he explained.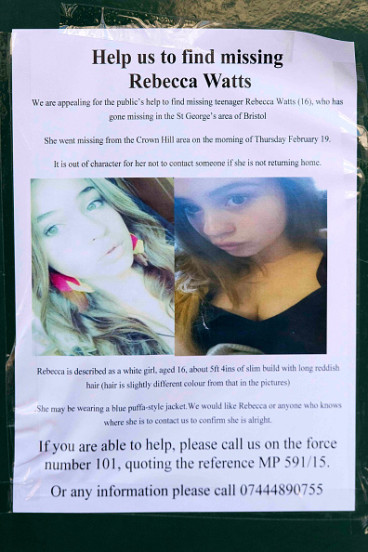 "It hasn't exactly filled us with confidence but it has in no way, shape or form dampened our spirits or hope that we will find Becky safe and well. Family is the most important thing in the world and should always be treasured as something irreplaceable. I hope and pray that she makes a safe return."
As police continue to investigate several lines of enquiry, Detective Superintendent Tunks has appealed to the public for any information that might lead to the whereabouts of the teenager.
"Whilst the two people are being questioned our search for Becky continues unabated. I would like to appeal once again for anyone who might have information about her whereabouts, or anything else that might help us to find her, to call us."
She is described as 5ft 4in and slim, with long, bright red hair and was wearing a dark navy blue Puffa jacket with fabric sleeves.
Anyone with information about Becky is asked to contact police on 101, quoting MP 591/15, or Crimestoppers on 0800 555 111.