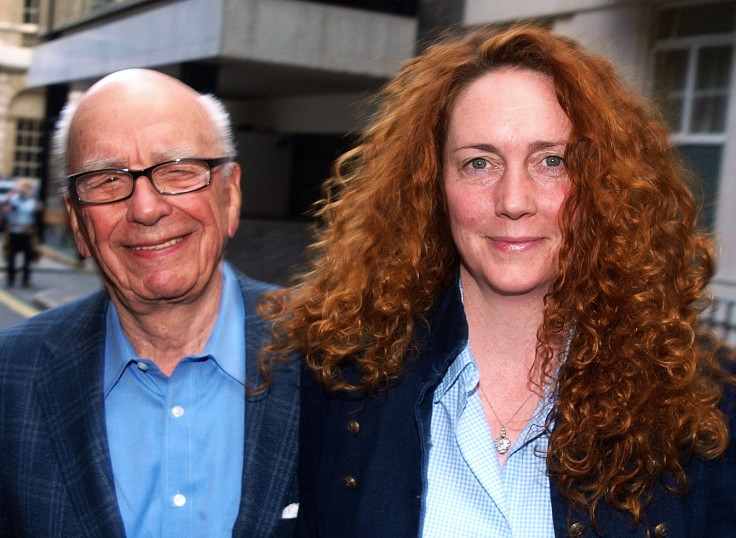 Rebekah Brooks has been appointed chief executive of News UK four years after she resigned from News Corp in the wake of the phone hacking scandal. Brooks, who was cleared of all charges in the News of the World (NotW) phone hacking trial, will replace Mike Darcey, who became chief executive in 2012, with former Daily Telegraph editor Tony Gallagher being appointed editor-in-chief of the Sun.
The current editor of the Sun, David Dinsmore, has also been promoted to chief operating officer at News Corp, the company announced. Brooks, a former editor of the Sun and NotW, was handed a pay-off of around £10m ($15m) after she left the Rupert Murdoch-owned News Corp during the phone hacking scandal which resulted in the closure of the NotW.
Robert Thomson, chief executive has now confirmed Brooks will return to the Murdoch empire as chief executive of News UK, publisher of The Sun, The Times and Sunday Times newspapers.
Thomson said: "Rebekah will lead a great team at News UK into the digital future, while maximising the influence and reach of our newspapers, which remain the most informative and successful in Britain and beyond. Her expertise, excellence and leadership will be crucial as we work to extend our relationship with readers and advertisers, and develop our digital platforms to take full advantage of our brilliant journalism."
Brooks said she is "delighted" to return To News UK four years after she left the company when it was previously known as News International. She said: "It is a privilege to be back amongst the most talented journalists and executives in the business.
"I am confident that we can meet the many challenges of this digital age with a combination of cutting edge technologies and world class journalism. I am especially pleased to be working for Robert and thrilled to have Tony and David on board my team."
It was first rumoured in March Brooks would return to News Corp's UK operations as the boss of Storyful, a social media news agency purchased by Murdoch for more than £16.2m in 2013. A month later, she was also reported to have been offered the chance to run the Sun's digital and video operations.
Shadow culture secretary Chris Bryant – one of the victims of phone hacking by the now-defunct Sunday tabloid - described Murdoch as sticking "two fingers up to the British public and the thousands of people whose phones were hacked by News International" by re-hiring Brooks.
He added: "Hundreds of ordinary journalists lost their jobs when Mr Murdoch closed the News Of The World, but it seems Rebekah Brooks is to get very special treatment.
"This decision is ludicrously premature when the Crown Prosecution Service is still considering corporate charges against News Corp, when the House of Commons Privileges Committee has still to rule on whether three News Corp executives lied to Parliament, as claimed by the Culture Media and Sport Select Committee when it was chaired by John Whittingdale, and when the Leveson Inquiry has to still to complete the second part of its work into the events at the News Of The World."
Andy Colson, another former NotW editor, was sentenced to 18 months in jail after being found guilty of one count of conspiracy to hack phones. Former NotW journalists Greg Miskiw, Neville Thurlbeck, James Weatherup and Ian Edmondson also pleaded guilty to phone hacking offences, along with private detective Glenn Mulcaire.