Biopic Free State Of Jones is finally out in the UK this weekend and it's safe to say, that the true story – spanning 14 years – might seem a little overwhelming to those not familiar with the subject. Fortunately, ahead of the film's release, StudioCanal has unveiled a helpful infographic that explains what Newton Knight did during the American Civil War and in the years that followed.
The video begins with Knight's birth in Jones County in 1837, then it whizzes to April 1861 when the Civil War broke out following the Confederates' attack on Fort Sumter in South Carolina. Having enlisted in the Confederate Army in July 1861, Knight served (as a battlefield medic in the film) for about a year before he grew tired of "fighting a rich man's war" and deserted the forces.
In reality, his reasons for leaving were the lack of food and supplies for soldiers in the aftermath of the Battle of Corinth and more so, he and his comrades' wives and families struggling to keep hold of their farms thanks to tax-officer troops seizing their crops and livestock.
Some believe the main reason for Knight's desertion was his outrage towards the Confederate government's Twenty Negro Law, which allowed large plantation owners to avoid military service if they owned 20 slaves or more. Although, in the movie, the turning point is when Knight's young nephew is killed in battle.
As the infographic continues, it tells of how then-president Abraham Lincoln passed the Emancipation Proclamation in January 1863, which declared that all slaves in the US were to be regarded as freemen. Later that same year, Knight banded together fellow deserters and former runaway slaves to form Knight's Company. This group of rebels intended to protect the families and farms of neighbouring counties from Confederate authorities, including goods being taken for taxes.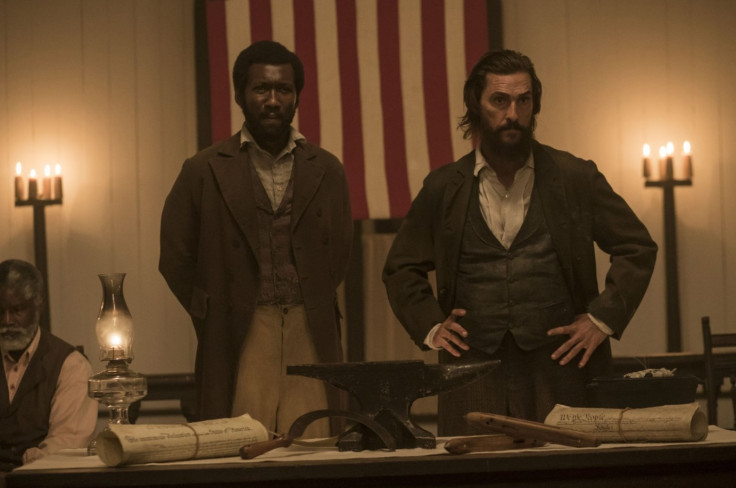 While there's a lot more to be learned about Jones' fight for freedom, the final slide in the video states that, in February 1864, Knight's Company began actively crusading for the independence of Jones County.
Directed by The Hunger Games' Gary Ross and also starring Gugu Mbatha-Raw (Belle), Mahershala Ali (House Of Cards) and Keri Russell (The Americans), Free State Of Jones will reach UK cinemas on Friday 30 September.
For more entertainment news follow A-List on Twitter @Alistinsider