Reformists and moderate conservatives backing incumbent President Hassan Rouhani are leading in crucial Iranian parliamentary elections at the expense of hardline Islamic factions. According to early results Rouhani will face a much friendlier house once the count has been completed on Monday, 29 February.
More reformists and moderates in the Iranian parliament would surely lead to a softening of tone towards the West as well as democratic changes to the house. Elections are to appoint Majlis, or members of the Iranian parliament, and an 'Assembly of Experts', which will appoint the next supreme leader.
According to official figures, nearly 55 million of Iran's 80 million people were eligible to vote with Interior Minister Abdolreza Rahmani Fazli predicting that there would be a turnout of around 70%.
The Majlis elections, will see all 290 seats in the Iranian parliament filled, with more than 6,300 candidates (including 585 women) vying for elected positions, with five seats reserved for religious minorities, with 1,121 candidates in capital Tehran alone.
The elections are broadly being fought between two main camps of moderate versus hardline candidates, although there is crossover in that moderate conservatives are also running. This year, moderates and reformist candidates, and even some conservatives, have banded together in a bid to grapple control from hardliners.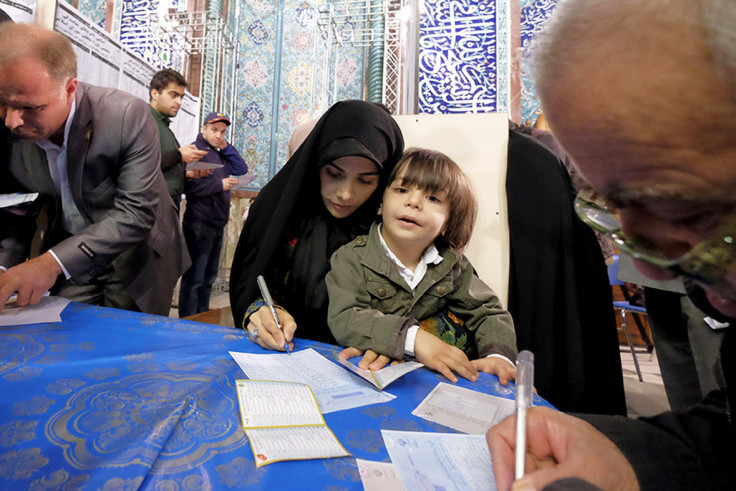 Polls conducted by the semi-official Fars and Mehr news agencies and a count conducted by The Associated Press news agency show that hardliners are set to be the main losers of the vote. On Saturday 27 February, partial results emerging from around 50 small towns across Iran showed reformists and their moderate allies were leading in the vote.
"Initial counting shows tight competition between the two sides. It is still too early to determine who will come out on top, as votes are still being counted in Tehran and outside," an official Iranian source said according to Reuters.
The hardline conservative camp is largely made up of loyalists to former president Mahmoud Ahmadinejad who served for two terms in office, goading the West, and particularly the US. The latest elections are the first since an agreement with six major powers to curb its nuclear program led to the removal of crippling international sanctions.