Frustrated migrants from countries such as Morocco, Algeria and Pakistan have tried to storm the Greek-Macedonian border, tearing down part of a barbed wire barrier and demanding to be allowed to continue their journey to northern Europe. A few ran across into Macedonia but were quickly detained by police.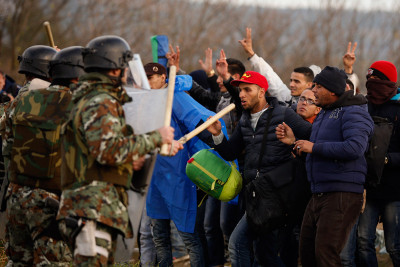 They were among about 1,500 migrants who have been stranded by a policy of restricting entry only to those fleeing conflict. Slovenia, a member of Europe's Schengen zone of passport-free travel, declared it would only grant passage to those fleeing conflict in Syria, Iraq and Afghanistan, and that all others deemed "economic migrants" would be sent back. That prompted others on the route – Croatia, Serbia and Macedonia – to do the same, leaving growing numbers stranded in tents and around camp fires on Balkan borders with winter approaching.
Balkan countries have increased border security to stem what has been an anarchic, largely unchecked stream of humanity into Europe. The United Nations has condemned the restrictions, saying they are in violation of international law.
Those refused entry have sat through rain and rapidly decreasing temperatures while they hope that governments in the region will change their policy.
A group of Iranians have been staging a hunger strike and have sewn their lips shut in protest at the policy.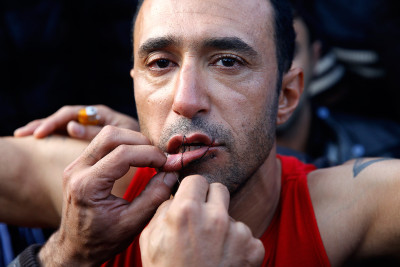 A man named Barrawe from Somalia said that Europe was letting African refugees down in favour of those from the Middle East. "What we see is unfair because they let some people [through], they see only four years in war. We are into 25 years in war," he said.
Lubna from Pakistan begged the EU to help. "There is no food. The weather is cold. There is nothing. Nothing to eat, to drink. Please help us," he said.