This is the moment police caught a Republican state senator liaising with a teenager in a motel room. Ralph Shortey has since resigned from the Oklahoma senate and pleaded guilty to child sex trafficking – he faces between ten years and life in prison for his crime.
The married father of four was wearing a T-shirt reading "Ephesians 5:22"– a Bible verse ordering wives to submit to their husbands – adding: "Now go make me a sandwich."
However, police were more concerned about the presence of a 17-year-old boy inside the room with Shortey, who is 35.
Officers had been called to the Super 8 Motel in Moore on 9 March after someone who knew the boy saw him entering the room with the senator in the early hours of the morning.
A body cam worn by one of the team, footage of which was obtained by News 4, shows officers trying to gain access to the room for several minutes.
Eventually the underage boy made his way out of the room, although this moment was not shared with the media in order to protect his identity.
Police then entered the dimly lit space, which smelled of marijuana, to find Shortey, a box of opened condoms and two unmade beds.
"So what was going on over here tonight, man?" an officer asked.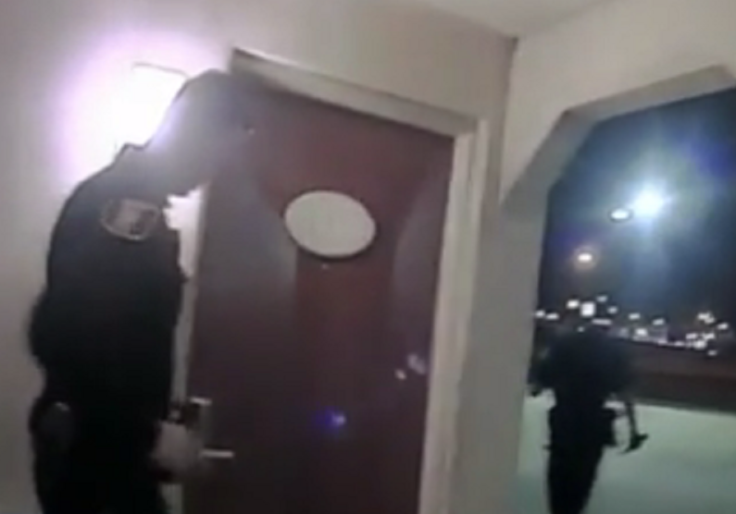 "We were just hanging out, talking about life and stuff," Shortey replied. "We've been talking for a few months about. Tomorrow he told me he was going to get his GED. Couldn't graduate high school and was trying to get his life on track."
However, on 20 November he pleaded guilty to one count of child sex trafficking, with prosecutors agreeing to drop three child pornography charges against him as part of the plea.
"It is in my best interest and in the best interest of my family," he wrote on his plea paperwork. He had been due to stand trial on 5 December.
In the footage, Shortey claims to not know the boy's age. However, an officer says: "What sense does it make, me lying to you?
"But listen, whatever you're doing, it's a bad idea. Does that make sense to you? Getting high, with a young kid, is a bad idea. No matter if they're 17 or 20. It's a bad idea. You understand what I'm saying?"
Shortey resigned on 22 March from his Oklahoma Senate seat. According to the federal indictment, on 8 March, the teenager had told Shortey that he needed money for spring break via a messaging app.
Shortey's alleged reply was: "I don't really have any legitimate things I need help with right now. Would you be interested in 'sexual' stuff?"
After the boy responded "yes", the Kik conversation included explicit references to sexual conduct. Shortey then picked up him from his house and took him to the motel.
The boy's father had called the Moore Police Department, reporting that his son was missing and he had been seen entering a motel room with an adult male.