The difference between Leonardo DiCaprio's portrayal of garish banker and last big-screen role, Jordan Belfort, and his character in upcoming drama The Revenant couldn't be more drastic as the Hollywood actor admits that he says "almost nothing" throughout the whole movie.
"It was a different type of challenge for me, because I've played a lot of very vocal characters. It's something that I really wanted to investigate," he admitted in an interview with pop-culture blog Grantland. "How do you relay an emotional journey and get in tune with this man's angst ... without words?"
Writer and director Alejandro González Iñárritu reiterated the fact that moviegoers wouldn't hear much from DiCaprio throughout by saying: "Honestly, Leo, he's attacked by a bear, and after that, he becomes almost like a silent character: a lot of things going on, but no words. That's for me the essence of cinema: not to rely on the words, but images and emotions."
Despite DiCaprio's characters being poles apart, The Revenant does bare one resemblance to The Wolf Of Wall Street; it is also based on a true story. Set in the 1820s, it tells the story of frontiersman Hugh Glass (DiCaprio) who sets off on a journey to exact revenge on his two former companions that left him for dead after he was mauled by a bear.
However, Iñárritu didn't feel that that would be enough of an arc to make an exciting movie, so added a new dynamic into the mix while he was writing the screenplay – the fact that Glass has a son named Hawk, claiming his presence would add more "empathy" to the piece.
"Revenge is a feeling [that] when you commit it, it leaves you empty. It's not a wholesome emotion, and it's not satisfying. I thought that a father-son relation, a filial relation, is much more complex and fulfilling," Iñárritu said.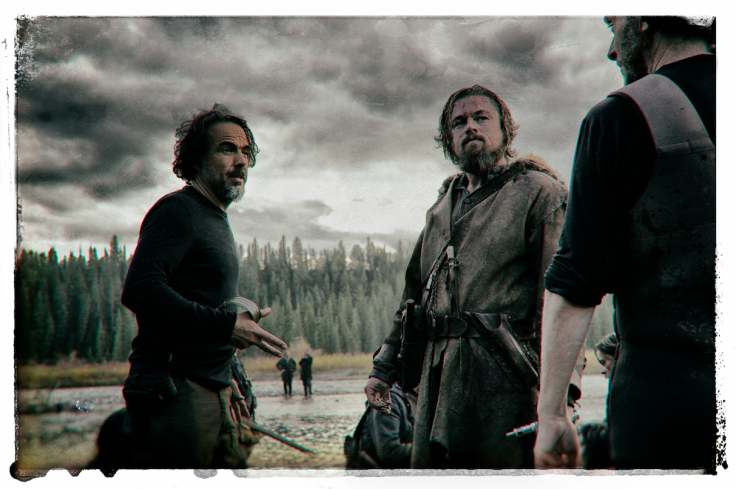 The fresh challenge of getting into the mindset of portraying a character that doesn't really say much wasn't DiCaprio's only draw when it came to becoming involved in The Revenant, he was also interested in playing a different kind of American man than fans of his work have seen him, or anyone really for that matter, present before.
"I tried to capture — or emulate on film — a different type of American that I haven't seen on film very often. This [was] an unregulated, sort of lawless territory. It hadn't been forged into the America that we know yet. It was still sort of up for grabs," he told the publication.
The Revenant already looks to be an ambitious film and it's not even finished yet, (the filmmakers are yet to film the final scene), but it's not because DiCaprio keeps pretty schtum on-screen. The idea of a protagonist that doesn't say all that much isn't such a novelty thing in cinema these days, what with Drive, Under The Skin and Mad Max: Fury Road all having employed the same technique within the last five years. What makes The Revenant so pioneering is Iñárritu's dedication to shoot the whole thing in natural light, which made filming difficult due to certain time constraints and expected, but still challenging limitations.
"To pull off these complicated sequences, like a ballet, movement needed to be precise," DiCaprio recollects. "When it came down to that nail-biting moment to capture that magic light, every day was like putting on a mini-piece of theatre.
"If we lost that one hour, if we didn't accomplish what we had to accomplish, we were there the next day. And oftentimes many of these locations were very remote. So it was a very intense set, because we knew we only had one shot every single day. Otherwise ... we would be back there again."
The Revenant also stars Tom Hardy, Domhnall Gleeson and Will Poulter and will be released in UK cinemas on 15 January 2016.