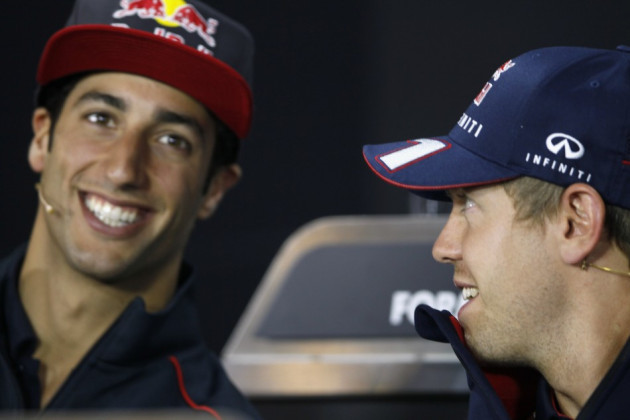 Daniel Ricciardo will replace Mark Webber at Red Bull Racing from the 2014 season after being promoted from sister team Toro Roso.
The 24 year old joined the feeder team for the 2012 season, scoring ten points in his maiden campaign before scoring 12 already in his second year with eight races remaining.
The Australian replaces fellow-countryman Webber who confirmed his retirement at the end of the 2013 season in June and partners three-time world champion Sebastian Vettel from next season.
"I feel very, very good," Ricciardo said. "Obviously there is a lot of excitement running through me right now. Obviously it's great news for me. It's something I've worked for and to hear the news I wanted is great. It's the next step in my career now.
"I'm going to have to put up with a bit more, scrutiny or whatever but I'm ready for that. I want to get results for myself and obviously for the team.
"Sebastian Vettel has obviously achieved a hell of a lot in his career. I want to be put against the best and for my personal challenge and really see if I can mix it with the top guys in the world. This is the next step but for sure it's not the final step."
Lotus' Kimi Raikkonen was heavily linked with the vacant seat with the constructors' champions but was overlooked as Red Bull opted to promote from within.
Chief technical officer Adrian Newey said: "We could have taken an experienced driver and someone who could have delivered to a relatively known level or equally we could take on a much younger driver in the hope that he'll develop to a very high level."
Despite claiming three successive world titles Red Bull have struggled amid infighting between their two leading drivers with Webber often accusing his team of favouring Vettel during previous seasons.
Their relationship came to a head in April when Vettel defied team orders to pass Webber to win the Malaysian Grand Prix after the Aussie had turned down his engine. It is left to be seen how Red Bull will manage the new dynamic within the team.
"Daniel is absolutely the right man for the job; he's absolutely deserved this graduation on merit. He's a talented youngster, he's committed, and he's got a great attitude," team principal Christian Horner said.
"Yes there are drivers who have great achievement under their belts but if you don't'; giver someone the chance how are they going to get those achievements?
"Obviously Sebastian has won a lot of races and is a multiple world champion and both drivers will get the same opportunity and the same equipment but inevitably there will be a natural pecking order that will be determined by the driver that in front on track.
"Both drivers, as has always been the case, will be given identical opportunity and equipment.
"We know Daniel is very quick. It's a wonderful opportunity for him and I think he's going to be a big star of the future."