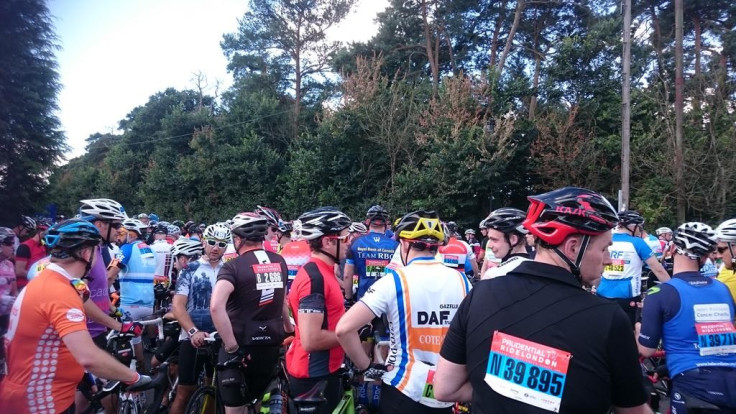 A cyclist raising money for a cancer charity having survived Hodgkin lymphoma as a child has died after taking part in the RideLondon cycling race. Robin Chard, from Bicester in Oxfordshire, suffered a heart attack during the 100-mile London-Surrey event on Sunday (31 July), according to organisers.
The 48-year-old received treatment from fellow riders and paramedics at around the 25-mile mark at Kingston Bridge but later died in hospital. He is the third RideLondon participant in three years to die following heart failure.
In a statement released by the organisers on Monday (1 August), Chard's wife Vickie said: "Robin was doing something he loved to raise money for Cancer Research UK, a cause that was very important to him after losing his father, his mother's partner and my mother to cancer.
"I'd like to thank everyone who has helped and supported Robin and me, especially the event stewards, the event team and the amazing staff at Kingston Hospital."
The organisers added: "Everyone involved in Prudential RideLondon would like to express our sincere condolences to Robin's family and friends."
Chard had said on his JustGiving fundraising page he was on a "personal crusade" to help others beat cancer after losing his father and other loved ones to the illness, and had hoped to raise £400 for Cancer Research UK.
He had written: "Those that know me probably think I'm totally barking even attempting such a feat, but I want to help raise money for this charity to try and find more effective and permanent cures and improve the treatments available today."
News of his death has prompted hundreds of well-wishers to donate to his cause with the total raised reaching more than £20,000 within hours - over 5,000% above his original target.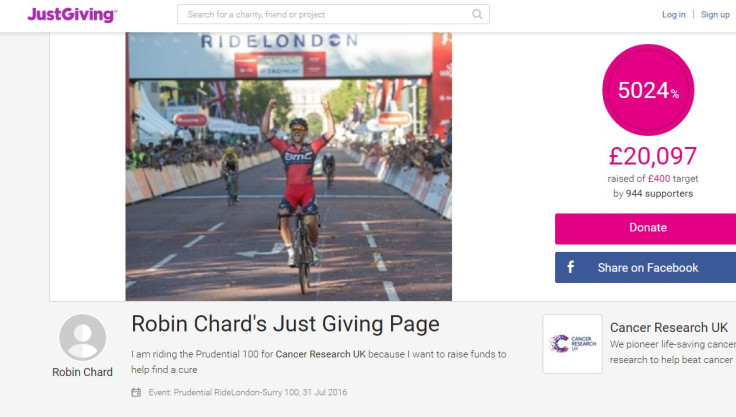 One online tribute read: "Uncle Robin, so incredibly proud of your efforts in the Prudential 100 bike ride today in London. Sadly, he didn't make it to the end but he passed away raising money for a charity close to his heart. If anyone can still donate in his memory I know how much he would appreciate it."
Another said: "Hi daddy, I'm so proud of you. Well done for getting as far as you did. I love you so so so much, I know you'll be proud of all the money you raised. You did such an amazing thing. I love you."
Thousands took part in the annual event which saw cyclists set off from the Olympic Park in Stratford, east London before heading to Surrey and back. Participants suffered lengthy delays on the route, however, after two crashes blocked part of the route.
Organisers said a total of 33 riders were taken to hospital during the event with seven still in hospital. Three riders suffered serious injuries.