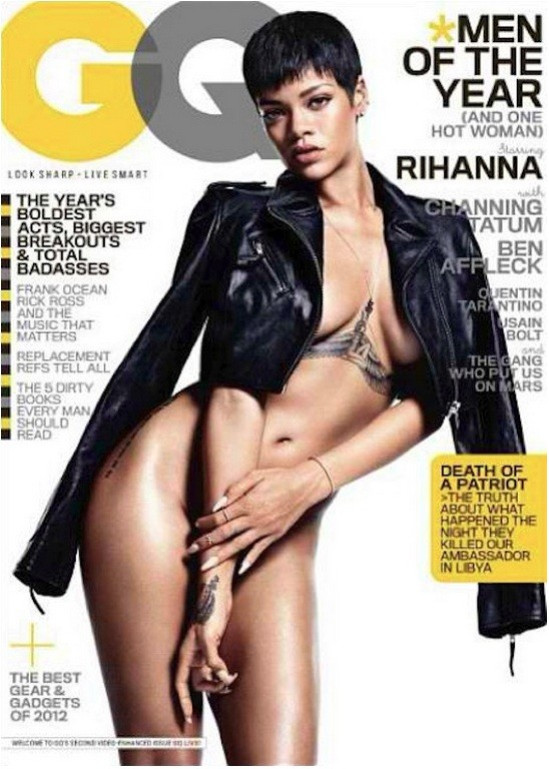 Rihanna has posed nude for GQ magazine's forthcoming "Men of the Year" issue.
The Barbados singer graces the men's magazine's December cover, completely naked, to mark being the first-ever female to be featured on the "Men Of The Year" list.
Wearing just a black, cropped, unzipped leather jacket, the sultry singer shows off her enviable curves and toned physique. Although she gives fans an eyeful of her bare breasts, she uses her strategically placed hands to protect her modesty.
Some of her collection of body art, including her new goddess Isis tattoo under her breasts, are also on display.
Ahead of the issue's launch, the 24-year-old star shared the cover with her fans on Instragram. She captioned the snap: "GQ's man of the year?! When will your fave? #historih"
Impressed fans quickly flocked online to give their seal of approval.
One wrote:" LAWWWWADDDD the Fineness"
Another said: " Wow she is absolutly stunning"
In the accompanying interview RiRi opens up about her turn-ons, love, as well as the infamous club brawl between her ex-boyfriend Chris Brown and rapper Drake.
"I like to feel like a woman," Rihanna says. "I have to be in control in every other aspect of my life, so I feel like in a relationship, like I wanted to be able to take a step back and have somebody else take the lead."
The sneak peek comes just days after the singer got into hot water for leaking exclusive images from her sexy photoshoot with supermodel Kate Moss for V Magazine on Twitter prematurely.
The racy pictures, which features the two beauties dressed in lingerie, lace bodysuits, and garters were supposed to make its debut next year.
A V magazine spokesperson said: "It is an unfortunate case that these images were prematurely leaked, which is becoming a more prevalent issue within the industry.
"While we don't condone what has happened, we are beyond excited to have gotten these two icons of music and fashion together for such a beautiful shoot. This is just a taste of all of the fabulousness that awaits in the March 2013 issue."