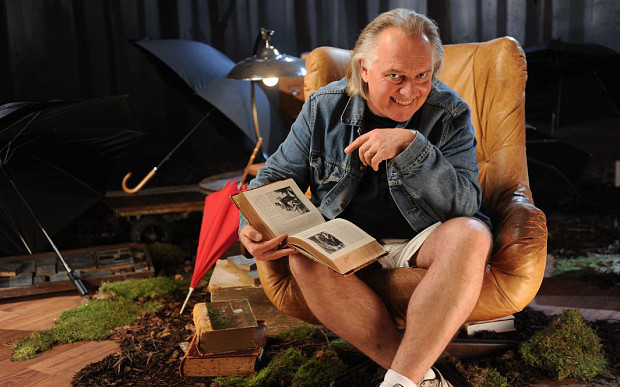 Late comedian Rik Mayall's final television appearance takes place tonight in Crackanory on Dave.
Crackanory is an adult version of famous children's story-time TV series Jackanory, for which Mayall gave a crazed, legendary performance reading Roald Dahl's George's Marvellous Medicine in 1986.
Mayall died at the age of 56 in June following an "acute cardiac event".
On tonight's episode, which marks the start of a new series, Mayall reads The Weatherman, about, you guessed it, a meteorologist who can "control the climate". Vic Reeves also reads a tale in the episode about a cleaner launched into space.
Being so well suited to both Jackanory and Crackanory shows the breadth of Mayall's abilities, his talent for slapstick and over-the-top madness well-suited to young and old when used in the right way.
In his final interview with the Telegraph he explained what Crackanory meant, or at least he tried to...
"Crack is basically some kind of drug, isn't it? I don't know if you smoke it or inject it – both, probably – but it'll put you in a state of mind that is equivalent to watching Crackanory... or it's something to do with a lady's vagina. So it's a mixture of fabulous sex and the best drugs you can get. I suppose that's why they cast me.
"Storytelling has always been one of my great pleasures," he continued. "When I was young, I saw some of my heroes on Jackanory – Spike Milligan, Peter Sellers, Arthur Lowe, Ian McKellen, Kenneth Williams. That's quite a handful. These were all guys telling stories to me. They were fantastic because you got such intimacy with the person telling the story."
He was also asked about that famous reading of Geroge's Marvellous Medicine. "There was a bit of a fuss about it at the time because it was basically a story about a kid trying to poison his grandmother. I did it in a lively way, and there were complaints. So I'm pleased to have been in both Jackanory and Crackanory. That's pretty cool."
Crackanory airs tonight on Dave at 10pm.