Rio Carnival 2013: Biggest and Glitziest Parades at the Sambadrome [PHOTOS]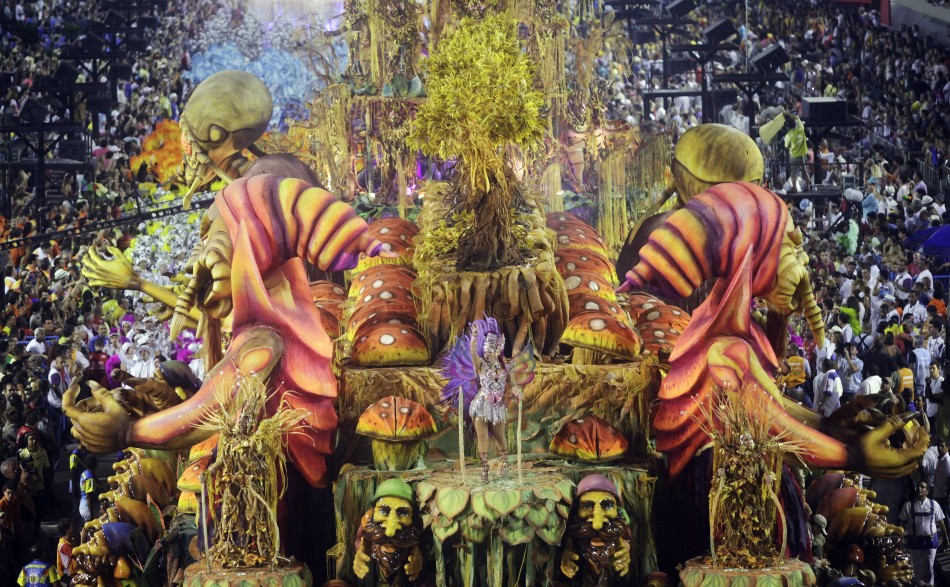 As another night of partying ends at the Rio Carnival, for many there is an extra reason to celebrate as the huge parades and elaborate costumes arrive after months of hard work.
As the first night of over-the-top glitz-and-glam Carnival parades emerge, many of the millions are people who flock to the streets have no idea how much time and effort go into the making the samba group's extravagant floats and costumes.
Built in warehouses across Rio, some of the more grand designs can take the best part of the year to construct and hundreds of workers, many of them volunteers, pulling together to create their unique parades.
Angelica da Silva Bernardes, one of those working in the warehouse run by the Grande Rio group who are taking part in the parades said: "We're anonymous artists. The public has no idea who builds all this."
Bernardes, who volunteers in the afternoon and evening in the build-up to Carnival to help with the construction, added: "Our motivation is seeing the way people light up when they see our work."
A second resident, Claudio Schneider, a hairdresser, also shows the dedication that is common for the people who treat Carnival as a way of life.
Scheider stops working every August to dedicate himself exclusively to being an "aderecista" responsible for the decorations that top the floats. He doesn't return to work until February.
"I can't stay away," Schneider said. "I go to bed at 5 a.m., get up three hours later and keep working. There is no money that pays for that kind of dedication."
So while the scantily-clad woman and celebrities often get a proportion of the limelight during the five-day mega party in Rio, here the IB Times UK has collected some of the most greatest floats and costumes that hit the Sambadrome this year.
© Copyright IBTimes 2023. All rights reserved.