Rio gang rape: Police arrest first suspect, massive hunt on for 4 perpetrators hiding in slum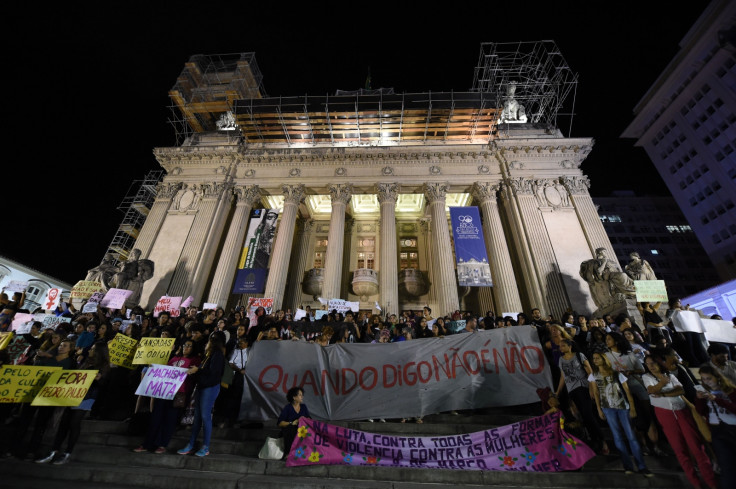 Brazilian police have reportedly arrested the first suspect out of the 33 men who allegedly raped a 16-year-old girl in Rio de Janeiro. The horrific incident led to widespread protests in the country after a graphic video and pictures of the woman were posted online by the men who assaulted her.
According to reports, at least 70 military police officers were pressed into action to look for four of the suspects in a slum west of Rio De Janeiro. The suspect, who was not named by the police, is being interrogated.
The victim, in a brief statement told O'Globo newspaper, "It's the stigma that hurts me the most. It is as if people are saying: 'It's her fault. She was using scanty clothes'. I want people to know that it is not the woman's fault. You can't blame a robbery victim for being robbed," as translated by New York Times.
On 28 May, hundreds of protesters gathered outside the Legislative Assembly in Rio waving signs that read, "Machismo Kills" and "No means no".
In Sao Paulo, demonstrators erected up a mural with messages saying, "My body is not yours" and "I like to wear necklines, that's not an invitation to rape me."
Justice Minister Alexandre de Morais said in a press conference, "Those who committed this heinous crime will be found, will be imprisoned and condemned."
Acting President Michel Temer called for an emergency meeting on Tuesday of the security ministers from each of the Brazilian states to discuss crimes against women. He tweeted: "It is absurd that in the 21st century we should have to live with barbaric crimes such as this."
© Copyright IBTimes 2023. All rights reserved.