Rioting Brazilian Prisoners Set Fire To Guards and Throw Them From Rooftop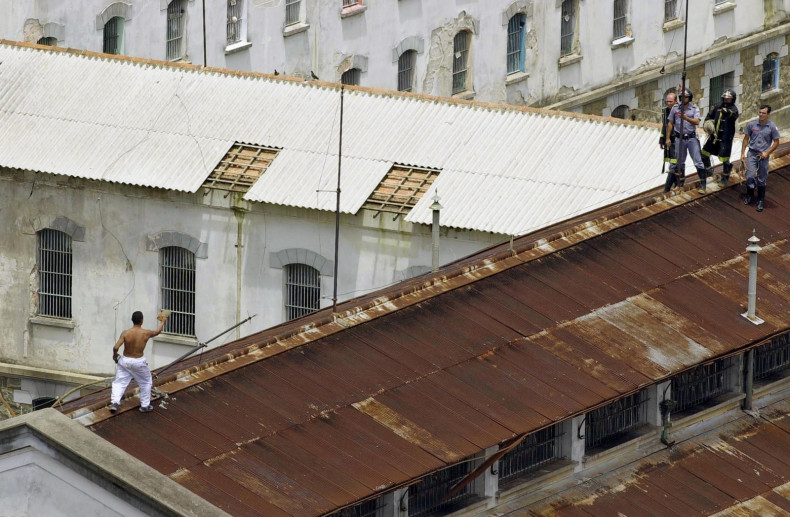 A Brazilian prison riot is in its second day in the southern Parana state where inmates at Guarapuava prison overpowered 12 guards and took several prisoners hostage.
The inmates set fire to seven people and threw them from the building. They also tied a blindfolded hostage to a piece of wood and dangled him from the roof.
Five inmates and two guards were torched and thrown off the building. All survived and are now recovering in hospital.
Negotiations resumed on Tuesday morning but soon after prisoners blindfolded a man and tied him to a piece of wood on the roof.
At least one guard was hospitalised with injuries after prisoners hurled hot glue at him, stated the regional prison officer's union, Sindarspen.
The union also said that this is the fifth riot in Parana's prisons in the last few weeks, as well as the 21st this year, according to a report by NDTV.
"The Parana prison system is in major crisis," Sindarspen said in a statement.
The union added that prison officers fear for their personal safety. "We don't know if we'll make it home after our shifts," said one guard.
The Parana state justice secretariat said a group of more than 30 prisoners was leading the rebellion at the Guarapuava prison.
It said talks with the prisoners continued on Tuesday, and that their demands included better food, treatment and the transfer of some inmates out of the prison.
"The negotiations are extremely complicated and delicate as state special forces police on the scene risk the situation turning more violent if they go in with force," an Al Jazeera's journalist reported from Sao Paulo.
"It's no secret Brazil has some of the worst prisons, with massive overcrowding and often a lack of enough guards to control the number of inmates. So the prisons are very vulnerable to prisoners overtaking control."
The inmates at the Guarapuava prison want better living conditions, and prisoners doing time for sexual offenses want to be transferred to other jails.
Globo News TV footage has shown three people, apparently guards, semi-naked and seated on top of a prison building. They were tied up, and watched over by inmates who covered their faces with T-shirts.
With 548,000 prisoners nationwide, Brazil's jails are at bursting point.
There are 274 people in prison per 100,000 residents, according to the International Centre of Penitentiary Studies and NGO Conectas says the country needs to boost capacity by 207,000 to overcome severe overcrowding.
"Increasingly inmates view rioting and hostage taking as a way to pressure authorities for more humane incarceration conditions," the Al Jazeera journalist added.