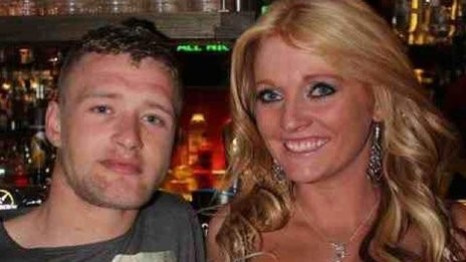 The bodies of the two people found in the swollen River Clywedog in Wrexham have been named locally as Alicia Williams and David Platt.
Williams, 27, and Platt, 25, were pulled from the river. They were seen earlier walking their five dogs in the area.
They are believed to have been a couple from the Wrexham area. Williams, 27, is believed to have a daughter.
The body of Williams was discovered by a walker on a sandbank near the Felin Puleston area. Platt, 25, was found by police.
Police were checking reports that the pair had gone into the water - swollen because of days of heavy rain - to save a dog.
Chief Inspector Mark Pierce told a press conference that the deaths were not being treated as suspicious.
He said: "The likely scenario is that it was a tragic accident.
"You can just imagine the trauma and distress that the two families are going through.
"One of their dogs may have gone into the river and one or the other [of the victims]" went in to help, he said, although that was still only "speculation".
Post mortems will be carried out.
A fire service spokeswoman said the river was fast-flowing and warned people of the increased dangers of waterways after spells of extreme weather.
She said: "Rivers may appear safe but fast-flowing currents are dangerous."
The River Clywedog broke its banks in a number of places after days of torrential rain, which has caused flooding across huge swathes of northern England and North Wales.
Tributes have been paid to the pair on social network sites.
Josham Reem James said: "RIP Alicia Williams :( thoughts with your family and little girl... you will be missed xxxxx".
Miley Berry added: "Platty and Alicia RIP thoughts go out to you family and you daughter you're going to be missed by many."