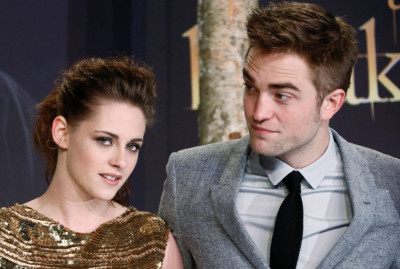 Robert Pattinson is reportedly planning to give Kristen Stewart a personalised gift for the Christmas and New Year they ended up spending apart.
According to Hollywood Life, the 23-year-old actress is a huge fan of contemporary artist Nettie Wakefield, and Pattinson is thinking about having a new piece of her work commissioned just for Stewart.
"Rob spent some time with Nettie Wakefield over the holidays in London. She's an incredible contemporary artist, known for her portrait drawings. Rob and Kristen are both collectors of her work. It wouldn't surprise me if Rob was commissioning her to do something cool for Kristen as a Christmas or New Year's gift," a friend of Pattinson told the website, adding, "Rob and Kristen have very similar tastes when it comes to artwork and Nettie is also a very dear friend."
Pattinson had ended his four-year relationship with the Sils Maria actress after it was confirmed that she cheated on him with her Snow White and the Huntsman director Rupert Sanders.
Meanwhile, Stewart who is busy with her new pup Bailey revealed that she is planning to adopt another dog when she stopped by For Pets Only in Los Angeles to pick up a bag of dog food.
"Kristen was here yesterday and was in a really good mood," a source reportedly told Hollywood Life.
"She bought some dog food and was talking about how in love she was with her puppy. She talked to someone else about adopting another dog. She was really friendly and down to earth," the source added.