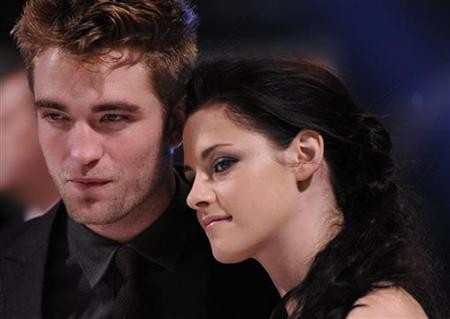 Stars of the Twilight series of films, Kristen Stewart and Robert Pattinson are reportedly in the middle of a bitter custody battle... over a dog! The young couple, once regarded as "meant for each other", are in the process of breaking up their long-term relationship, after Stewart was photographed kissing British film director Rupert Sanders.
The 22 year old actress has a cat - Max. The fight, however, is about Bear, a mixed-breed dog the couple adopted from a shelter in New Orleans. A report in Radar Online states Stewart is attached to Bear and nursed him through his battle with Parvo, a potentially fatal disease.
"After Rob moved his things out of their Los Angeles apartment, he then told Kristen he wanted Bear. She was heartbroken - they adopted Bear together and she's always felt that he was their little baby. But Rob was so hurt by Kristen's actions he decided that he wants the dog to help him get over what happened. After all, a dog is a man's best friend and Bear is such a good companion," a source was quoted as saying.
"Kristen won't give up Bear in a hurry. She helped Rob save Bear from Parvo disease, which nearly took his life when he was a puppy. She wants joint custody - and it could get a little messy," the insider added. Incidentally, before news of Stewart's fling was revealed, the couple was planning to adopt a second puppy.
Meanwhile, Stewart's affair with Sanders is beginning to have a hugely negative impact on her career, as evidenced by the reaction of some fans.
"Kristen is the most hated woman in Hollywood. Female moviegoers have been looking for a reason not to like her and now they have it," an insider was quoted as saying to The Sun, "Lots of Rob's huge army of female fans will boycott her films. It's going to be a long road for her to come back, professionally as well as personally."