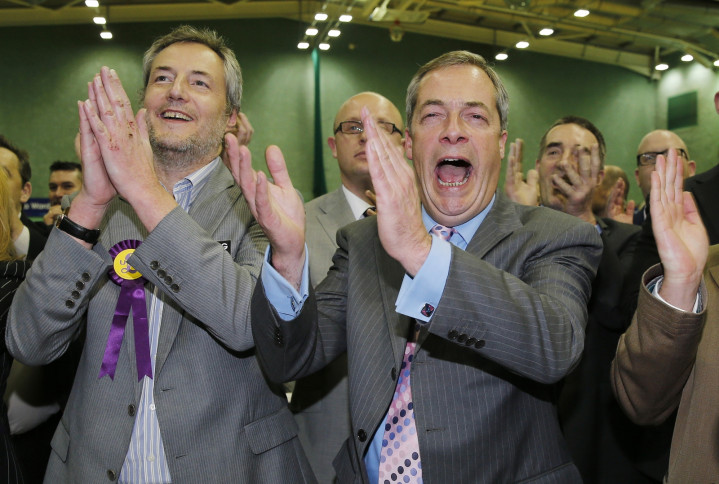 Ukip's "bandwagon" will keep on rolling to the 2015 General Election thanks to Mark Reckless' victory in the Rochester and Strood by-election, according to YouGov.
Anthony Wells, associate director of YouGov's political polling, told IBTimes UK that the Conservative defector's success means that Ukip will keep "being a factor" up the election in May.
"The bandwagon for Ukip keeps rolling on. When Reckless first defected, the Conservative Party were very confident of taking the seat - 'he is no Douglas Carswell and this is no Clacton'," Wells said.
"If the Conservatives held the seat, they would have hoped to put the lid on Ukip and they would hope it stopped future defections and stop Nigel Farage's party getting more publicity."
Reckless won the by-election with 42.1% of the vote, down from 2010 when he secured 49.2% of the vote as a Conservative candidate.
But Wells said that the victory does not tell researchers much about the party's potential performance at the next general election and warned that Ukip's vote could get squeezed.
"Ultimately, come the general election, a lot of people will focus on the contest between David Cameron and Ed Miliband," the YouGov analyst said.
"At the end of the day, those are the only two men who are going to be Prime Minister and that will squeeze people towards those two parties."
Wells also said that first-past-the-post is a "really robust" voting system and Ukip's next challenge would be to show that they can win seats under it.
"The first-past-the-post is a really robust system, it really fights to keep out new challenger parties," Wells said.
"That's Ukip's challenge – to break through that perception that they can't win."
However, the YouGov analyst predicted that if Ukip can translate a "relatively modest" share of the vote in constituencies along the east coast of England, the party could win "quite a lot of MPs".
The Liberal Democrats lost their deposit at the by-election after Geoff Juby's share of the vote plummeted to 0.8%, down from 16.3% in 2010.
Wells said that such a by-election result for Nick Clegg's party has become normal.
However, he argued that the outcome "does not really matter" for the Liberal Democrats ahead of next may because the party will concentrate on holding its current seats.