RogerVoice App Helps Deaf and Hard-of-Hearing People Make Phone Calls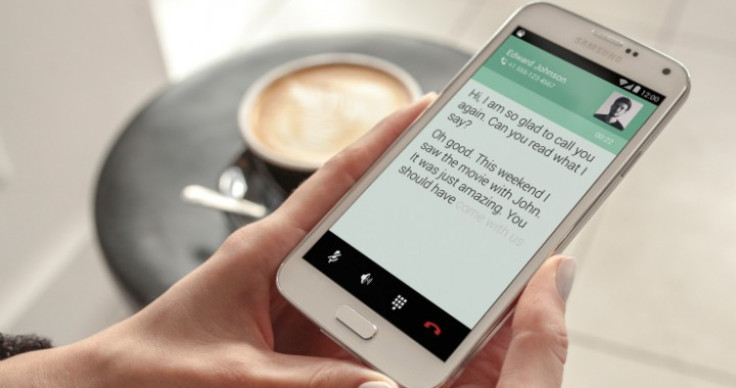 French startup RogerVoice has created the world's first ever subtitling smartphone app that enables deaf and hard-of-hearing people to make phone calls.
There are over 70 million people in the world who have profound to severe hearing loss and are unable to use phones, instead having to cope by lip-reading and using sign language, which can make life difficult.
Considering that people without hearing problems make on average five phone calls a day, people with hearing problems can feel isolated from their loved ones and miss out on opportunities like job offers and finding a place to live by not being able to communicate effectively by phone.
To solve this problem, RogerVoice is able to automatically translate any phone conversation to text in real-time, which helps people with hearing problems to keep up with conversations by reading the text captions on the screen.
The app works by relaying speech from both parties in the phone call on to a voice-over-IP (VoIP) platform in the cloud that is integrated with automatic speech recognition (ASR).
The speech has to pass through eight different gateways from the start of the call to receiving the text transcription on the smartphone screen but the company says this takes a second or even less. This means the user can keep up with the conversation without a long lag time and the calls are completely confidential.
RogerVoice is the brainchild of Olivier Jeannel, a telecoms business analyst who has lost 80% of his hearing. He has spent a year testing out the technology, which includes wireless connectivity and is compatible with Bluetooth-equipped hearing aids.
RogerVoice launched its Kickstarter campaign on 22 September and has already achieved $16,933 (£10,420) in pledges in just seven days.
The Android version of the app is in the works first, with the plan to create an iOS and Windows version in the future.
Backers will receive the app by pledging over $5, while higher pledges receive awards such as free unlimited calls for varying periods of time.
© Copyright IBTimes 2023. All rights reserved.