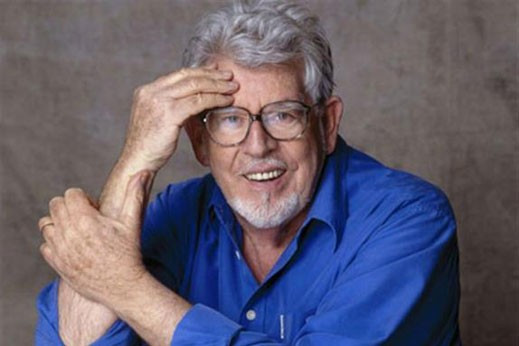 Channel 5 has axed two shows hosted by the veteran children's entertainer Rolf Harris after details emerged of his arrest on suspicion of sex offences.
Executives at the network, owned by Express and OK! proprietor Richard Desmond, pulled Rolf's Animal Clinic from their schedules, along with the children's show Olive the Ostrich, which Harris narrates.
The children's network Nickelodeon, which also screens Olive the Ostrich, followed suit by dropping the programme, while managers at the Bristol Hippodrome considered whether to cancel a one-man show by the star.
The 82-year-old Australian entertainer and artist was first interviewed over the historic allegations last November, and was questioned a second time by officers in March.
Harris is the 11th suspect to be arrested by officers conducting the Metropolitan police's Operation Yewtree investigation into sexual abuses by Jimmy Savile and others, with Harris's case forming part of the "others" strand of inquiries. . Other suspects currently on police bail include comedian Jim Davidson, PR consultant Max Clifford and DJ Dave Lee Travis.
Harris refused to comment to reporters at his Berkshire home yesterday. His arrest had been an open secret among news organisations for months, until The Sun newspaper printed details yesterday.
When Harris was arrested in March, police identified him only as "an 82-year-old man from Berkshire". He was subsequently named on social media sites and blogs, but not in the printed press.
Pressure by his lawyers, Harbottle & Lewis, meant newspapers shied away from publishing the details earlier, it is believed. The law firm had written to national newspapers warning them against identifying their client.
Earlier in the week, Harbottle, which also advises Prince Charles, sent a letter to a website, demanding it take down two stories that named Harris.
The lawyers argued that they defamed Harris. However, since it is entirely legal to report details of a suspect's arrest, the company's line of argument baffled commentators.
The Sun defended its story, saying: "The Met have repeatedly refused to confirm that Harris had been quizzed - amid public concerns over 'secret' arrests."
Harris has not been charged with any offence, and has been bailed until May.
During the Leveson inquiry, legal groups pushed for a ban on police identifying suspects who had been arrested, meaning the public would only know of an arrest in "exceptional" circumstances.
Lawyers for Harris cited Leveson's report in their letters urging newspapers to stay silent on Harris's arrest.
"There is no public interest in publishing such content as is entirely self-evident following the publication of the Leveson report," Harbottle informed one publisher.
Harbottle told one newspaper it might face a costly damages bill even if it correctly named Harris.
Harbottle also cited the BBC Newsnight report that mistakenly linked Lord McAlpine with an allegation of child sex abuse.
"Given recent events ... we are very surprised and indeed highly concerned to note the content on your website," it wrote.
Freedom of speech campaigners condemned Harbottle's tactics, describing the attempt to suppress the facts as "alarming".
"There's a really obvious chilling happening here on what are legitimate rights, and it is in the public interest to report if it's Rolf Harris who has been arrested as part of a major investigation," said Padraig Reidy, of Index on Censorship.
"In any kind of case there can be circumstances where it is legitimate to withhold information on arrests but the more you looked at this Harris case you thought that this was not one of them," said Reidy.
"It does seem very odd that it has taken this long for a mainstream source to publish the fact."