Michael Parkinson has paid an emotional tribute to British comedian Ronnie Corbett who died on 31 March. "He was a wonderful entertainer, but more than that, he was a friend," said the TV broadcaster.
He went on to express his shock at the much-loved TV star's death. "I was astonished when I heard the news that Ronnie Corbett had died," he said. "I knew he'd not been well but I didn't realise that it was terminal.
"I was just deeply shocked, he was a wonderful entertainer, but more than that, he was a friend. I'd known him for many many years, we'd known his family as well. It was just appalling, I felt really, really grim about it. It was awful," he added.
During a career spanning six decades, Corbett was best known for his comedy partnership with Ronnie Barker as The Two Ronnies, as well as the satirical sketch show The Frost Report. Recalling his experience of working with Corbett, Parkinson described his contribution to British TV and entertainment as "massive" and their screen partnership as "magic."
"It was a different kind of era of television," he said. "Different altogether, huge audiences, gentle humour, based around the family. Those two [the two Ronnies] epitomised that time." Offering an insight into the man he knew personally as a close friend, he said: "He was an engaging man to talk to, he was an interesting man with an interesting life. He was engaged in lots of occupations outside of showbiz. He was a very proud Scotsman."
The tragic news of the veteran entertainer's passing was announced by his publicist in a statement. He said the comedian died surrounded by his family. "Ronnie Corbett CBE, one of the nation's best-loved entertainers, passed away this morning, surrounded by his loving family. They have asked that their privacy is respected at this very sad time."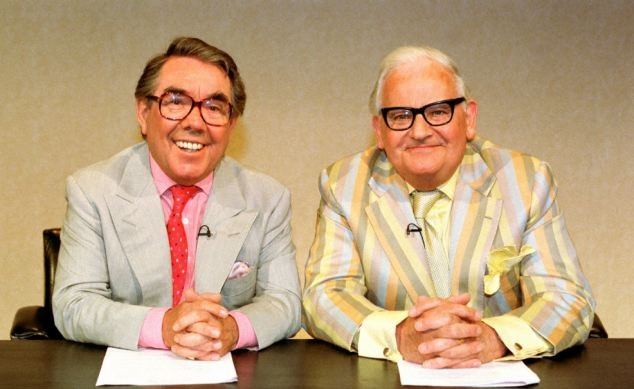 Stars from the worlds of TV, comedy, music and politics expressed their devastation at the news and Twitter has been flooded with messages of condolence from fans, friends and his fellow entertainers. Friend and TV personality Bruce Forsyth described it as "one of the saddest days of my life." Speaking to BBC News, Bruce said: "Ronnie was a friend, someone I admired so much. It's a very very sad day, I am going to miss him like crazy, I really will."
Singer Robbie Williams also paid a heartfelt tribute to the comedian, revealing a tattoo on his neck of The Two Ronnies' glasses. "Ronnie Corbett: You inspired me at a very young age. THANK YOU. You'll always be with me x," he said.
Ricky Gervais said: "RIP the lovely, funny legend Ronnie Corbett. It was an absolute honour & joy to have known him." John Cleese who worked with Corbett on The Frost Report, said: "He was a great, kind mentor and a wonderfully witty companion." Julian Clary described him as "a master of his craft and a huge star."
Prime Minister David Cameron said via Twitter: "Ronnie Corbett had the rare talent of making all generations laugh. He'll be remembered as one of the all-time great comedians." Labour leader Jeremy Corbyn said he was a "giant" of the entertainment world who was loved by millions. "He will be dearly missed. Our thoughts are with his family."
The Edinburgh-born entertainer is survived by his wife Anne Hart and their two daughters, Emma and Sophie Corbett.