Veteran entertainer Ronnie Corbett has died aged 85. His publicist said the comedian and TV star died surrounded by his family.
During a career spanning six decades, Corbett was best known for his comedy partnership with Ronnie Barker as The Two Ronnies, as well as the satirical sketch show The Frost Report.
A statement from his publicist said: "Ronnie Corbett CBE, one of the nation's best-loved entertainers, passed away this morning, surrounded by his loving family. They have asked that their privacy is respected at this very sad time."
During his career, Corbett performed some of the most memorable and beloved comedy sketches in British television history, including the classic Two Ronnies Four Candles scene – ranked the fifth best comedy sketch of all time by Channel 4 – and the Class Sketch, first broadcast in the Frost Report in 1966.
The 5ft 1ins star was also known for his monologues on The Two Ronnies, which ran from 1971 to 1987, in which he sat in a comically large chair to deliver a meandering joke that would often last for several minutes.
The Two Ronnies was also known for starting and ending with the pair delivering jokes as news anchors, signing off each episode with their famous catchphrase "It's goodnight from me" "And it's goodnight from him".
BBC Director-General Tony Hall was one of those who paid tribute to Corbett following his death. He said: "Ronnie Corbett was a wonderful comic and entertainer. A man of great charm and warmth who brought laughter and joy to millions. He was quite simply one of the true greats of British comedy. Our thoughts are with his family and friends at this difficult time."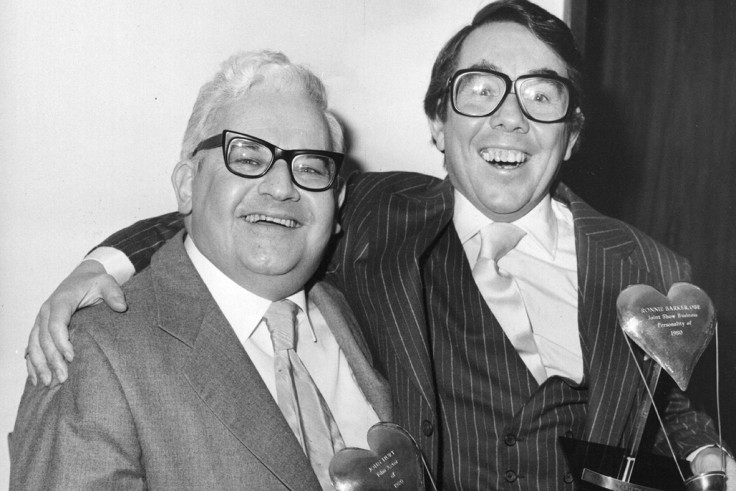 Prime Minister David Cameron, Labour leader Jeremy Corbyn and stars from the entertainment world paid also paid tribute to the 85-year-old. Cameron said via Twitter: "Ronnie Corbett had the rare talent of making all generations laugh. He'll be remembered as one of the all time great comedians."
Corbyn said he was a "giant" of the entertainment world who was loved by millions. "He will be dearly missed. Our thoughts are with his family," Corbyn added.
Corbett was awarded an OBE in 1978 and became a became a CBE for services to entertainment in 2012. The Edinburgh-born entertainer is survived by his wife Anne Hart and their two daughters, Emma and Sophie Corbett.