Models have been told for decades that they need to slim down, lose weight or drop to a size zero but once being told that she needs to be thin "down to the bone" is a whole new level of low. Those are the words which were uttered to Rosie Nelson, the Australian model who is tackling body issues within the modelling industry, just a few months ago in April.
Nelson, 23, has reached an incredible milestone with her Change.org petition, which has now amassed more than 114,000 signatures and has been handed over to Downing Street where parliament is forming an inquiry into the matter. So what is the big issue? Fed up of models being pressured into putting their health and bodies at risk for the sake of profiting a brand or agency, Nelson has channelled her frustrations into the petition with the hope of making a "cultural change".
Explaining her main goal with the campaign, Nelson, who hails from Australia but resides in the UK, told the IBTimes UK: "One of the main things was raising awareness of the issues [because] a lot of the public don't understand that these girls are forcing themselves to lose weight for the industry and that the agencies and designers are pushing the girls to lose weight."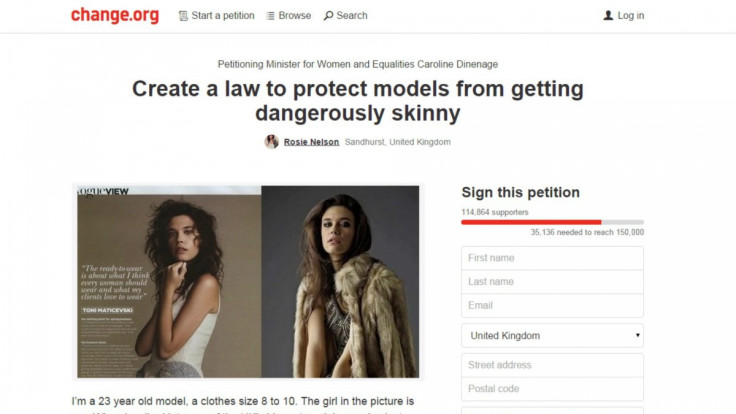 However, more importantly, Nelson launched the petition with hopes the industry bigwigs themselves (brands and companies) recognise that there is a problem with the way they sometimes treat young girls in the modelling game.
She explained: "I just wanted to see if the fashion industry would admit that there is a problem, it seems like they don't think there is. I want to see healthcare checks put in place or just healthier guidelines, exercise regimes and nutritional factors brought in so that models are taken care of more because at the moment they're not being taken care of whatsoever."
When Nelson was told by the unidentified modelling agency to lose an unhealthy amount of weight, she instantly knew that it was irresponsible of it to make such demands. Recalling the incident, Nelson explained: "I kind of expected to be told that I needed to lose weight but being told to be 'down to the bone' was quite shocking because you don't want to hear that you look like a skeleton.
"I didn't think it was a responsible thing for them to be saying and I just felt really bad about myself but I knew the industry and modelling. You were expected to be thin so hearing 'down to the bone' is like a whole other step to them saying I need you to be a skeleton with no meat on my bone and they wanted me to look unhealthy. I felt quite bad about myself after they said that."
While Nelson was strong-minded enough to know that she was being asked to slim down to a dangerous size, she realises that there are younger girls who may be more impressionable than she is. The model advises: "They need to realise that they have a voice in the industry and if their agency is pressuring them to lose weight, they should ask the agency if they can speak to a counsellor or doctor.
"Models are feeling like they can't speak up against their agencies because they are the ones who get them work. So it's actually that they don't want to go against them but they do have a voice and they need to realise they are the ones in power and if the agency wants them to lose weight they should be doing that responsibly."
Emphasising the importance of maintaining a healthy weight, Nelson added: "I don't think models understand that if they are going to extreme measures to lose weight, they are damaging their bodies. Their vital organs could be getting damaged, they could be developing anorexia and bulimia and I don't think they realise that because they are so young. Their body is the most essential thing they need to be taking care of in their life."
Nelson is not the only one in the spotlight who is fed up with the negative approach to women's body image. X Factor judge Cheryl Fernandez-Versini has received an intense amount of criticism for her apparent weight loss but she hit back at her critics calling for both skinny and fat-shaming to be made illegal, particularly with people now able to make comments on social media. Weighing in on the "shaming" aspect of body image issues, Nelson admitted: "People are entitled to their opinions whether they are good or bad.
"You can't really stop someone from thinking someone else is too skinny and if they want to put that on the internet then they're entitled to. I don't support skinny-shaming or fat-shaming, I think it's wrong to judge anyone just on their body. But to control something that's a bigger issue than that, I don't think it's possible to monitor it in a way."
Although Fernandez-Versini insists her current weight and frame is healthy, Nelson does encourage celebrities to be mindful that they have many young people looking up to them as role models. She states: "The thing is about celebrities, when they do get incredibly skinny, they need to realise that what they're doing does reflect on to the rest of the world.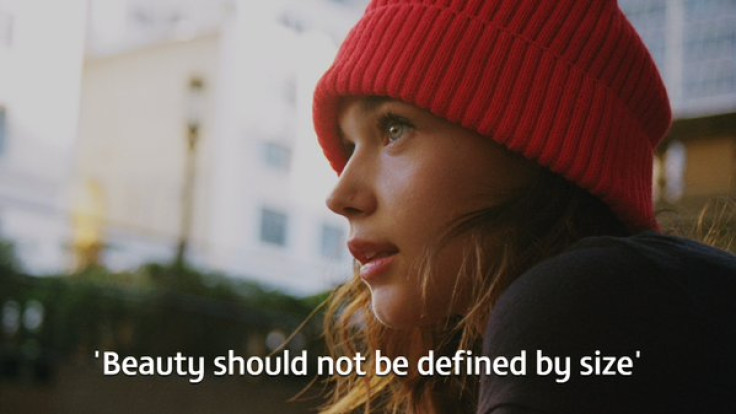 "Girls that love such celebrities, they're going to idolise them, their body shapes and what they're wearing and think I need to be that skinny to wear that dress she's wearing. It comes down like a ladder from the celebs to the kids that are seeing it, like a ripple effect."
In April 2015, France passed a bill that would see brands, companies and agencies fined and even face jail for hiring models that are deemed to be too skinny. While Nelson appreciates this is a good move, she believes targeting the root of the problem will be more effective, stating: "Banning something isn't the right way to go about it, I'd rather just see a cultural change happen where the designers want someone that's healthy because it just shows that the care."
A report on Nelson's petition will be delivered in January 2016, a huge development considering the model did not expect anything like the high-profile reaction she has received thus far. Recalling her initial hopes, Nelson said: "I didn't expect anything, I was excited when I got 100 signatures and it continued to grow. I didn't expect anything – the inquiry, anyone to sign it, any of the news [coverage], besides just a few people that realised this was an issue and all my friends showing support. I didn't expect that it would grow so much and it's just so exciting."