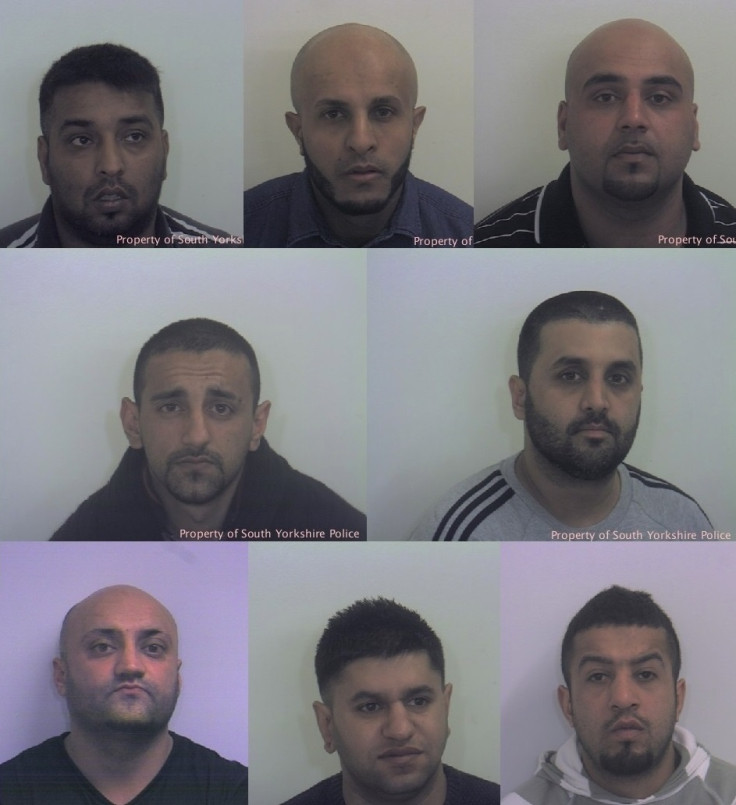 Eight men have been found guilty of a string of sex offences against three young girls in Rotherham between 1999 and 2003.
The men, aged between 30 and 40, were found of all charges against them guilty, including rape, indecent assault and false imprisonment following a trial at Sheffield Crown Court.
Police said the gang's young victims suffered years of "horrific sexual abuse", with the jury at the court hearing the girls endured "acts of a degrading and violent nature".
All eight will now be sentenced on 4 November.
A shocking report by Professor Alexis Jay in August 2014 previously revealed how 1,400 children were abused and trafficked in Rotherham between 1997 and 2013.
Speaking after the verdict, Detective Chief Inspector Martin Tate said: "This trial marks the culmination of three years of investigative work by South Yorkshire Police, Rotherham Metropolitan Borough Council and the Crown Prosecution Service into the calculated and organised sexual exploitation of young girls in Rotherham.
"The verdicts today are of massive importance to the young women who have come forward to report years of horrific sexual abuse at the hands of these criminals.
"They had to endure what no child should and have shown remarkable bravery throughout our inquiry. From coming forward to officers, to providing video and written interviews, through to reliving their traumatic and awful abuse before the jury, they have carried themselves with composure and dignity.
"I am so grateful to these women, many of whom remain incredibly vulnerable, for offering their support to our investigative team and I am so pleased that their voices have been heard and their abusers have been held to account for their vile crimes.
"It is difficult to put into words the damage and impact of sexual exploitation on children, but I hope that by hearing these brave women's accounts, other victims of this awful crime find the strength to come forward and tell someone what has happened or is happening to them."