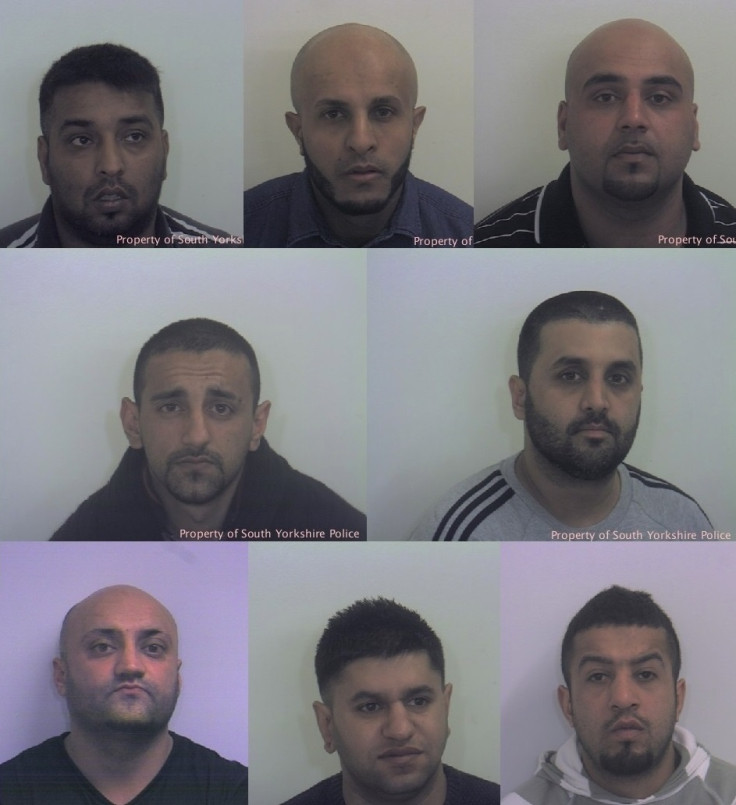 A gang of eight men who were found guilty of sexually abusing three young girls in Rotherham have been jailed for a total of 96 years. The men were convicted of charges including rape, indecent assault and false imprisonment following a trial at Sheffield Crown Court in October.
The defendants, aged between 30 and 40, have been handed sentences ranging from five to 19 years after abusing their young victims between 1999 and 2003.
Following the trial, police said the gang's young victims suffered years of "horrific sexual abuse", with the jury hearing the girls endured "acts of a degrading and violent nature".
A report by Professor Alexis Jay in August 2014 revealed how 1,400 children were abused and trafficked in Rotherham between 1997 and 2013.
Detective Chief Inspector Martin Tate, Senior Investigating Officer, said: "Significant sentences have been handed to these individuals for their significant and horrific crimes.
"The rape and sexual abuse of children is completely abhorrent and this group have shown no remorse for their crimes, forcing the young women who came forward to report this awful abuse to relive traumatic experiences before the court.
"We are indebted to the victims, who have supported our investigation and have shown remarkable strength in attending court to give evidence.
"This has been a lengthy and complicated process but I hope they are pleased with today's results. These dangerous sexual offenders are now behind bars where they can cause no further harm, thanks in large part to the victims' trust and confidence in our investigation."
Full sentencing
Sageer Hussain, 30, of Tanglewoods, Goole – 19 years in prison
Mohammed Whied, 32, of Psalters Lane, Kimberworth – five years in prison
Ishtiaq Khaliq, 33, of Carlisle Street, Rotherham – 17 years in prison
Waleed Ali, 34, of Canklow Road, Rotherham – 13 years in prison
Asif Ali, 30, of Clough Street, Rotherham – 12 years in prison
Masoued Malik, 32, of Bridgewater Way, Rotherham – 15 years in prison
Naeem Rafiq, 33, of Upper Clara Street, Bradgate – eight years in prison
Basharat Hussain, 40, who is currently on remand at HMP Wakefield serving a prison sentence was handded an additional seven years to run alongside his current sentence.
A statement on behalf of one of the victims was outside the court following the sentencing. It said: "I want to thank South Yorkshire Police, the Police and Crime Commissioner, Rotherham Council, the ISVA service, Victim Support and, of course, my mum and dad for all of the hard work and support each of them has offered.
"The reality is I have had more support in the last three years than I have ever had before. Things have changed, all I ever wanted was justice and all of these people have helped me to achieve it.
"I know grooming still goes on but I feel that the help is available now if you speak out. Groomers thrive in the silence of others. Speak out and someone will listen. The people who chose to hurt you will be held to account for their actions, no one else, as those who hurt me have found today.
"The survivors of Child Sexual Exploitation [CSE] in Rotherham have fought hard and fought with dignity. They have paved the way for others to follow and I hope they feel able to do so. If you see a child in a situation that makes you feel uncomfortable please report it, CSE is everyone's issue and we all play a part in stamping it out."