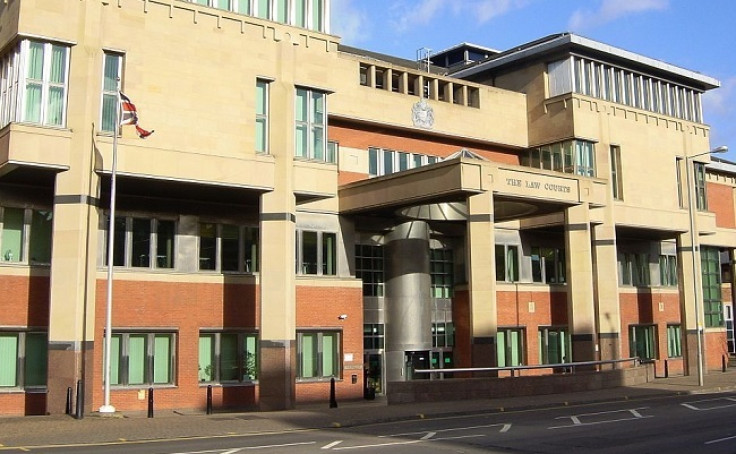 Ten men have appeared in court charged with violent disorder after clashes with a group of far-right activists in Rotherham.
Most of the defendants had been attending an anti-fascist protest in the town centre on 5 September 2015 to counter a demonstration by right-wing political party Britain First.
Violent scenes which followed the demonstrations were caught on CCTV showing a group said to be associated with Britain First, named Yorkshire's Finest, clashing with a group of mainly Asian men. The footage showed fighting in the street between the two groups before police arrived to separate them.
A trial at Sheffield Crown Court saw the 10 Asian men claim they were acting in self-defence or defending others after they were attacked.
Opening the case, prosecutor Paul O'Shea said 800 police were on duty in Rotherham for the Saturday afternoon protests.
He said the planned demonstration by Britain First and other groups, including Yorkshire's Finest, was the latest in a long series of right-wing protests prompted by the revelations of child sexual exploitation in the town. O'Shea said the protests had caused a number of problems for people in Rotherham.
But, he said, this one had provoked added local anger as it followed the racist murder of 81-year-old Mushin Ahmed, who was attacked on his way to the mosque in Rotherham on August 10, 2015.
"It is in the context of that incident, which you can well appreciate caused shock and outrage in the local community, that on September 5, when yet another march was planned, the local community did involve itself in the counter-protest," O'Shea told the jury.
"The death of that man had a profound impact and the attendance yet again of those espousing certain views and opinions on this occasion was not something that could be ignored. People had had enough."
From The Fry into the fire
O'Shea explained how the violence erupted as people were leaving the rival demonstrations and after a group reportedly associated with Britain First had gone into a pub called the William Fry, known as The Fry.
The prosecutor said: "The Crown say in the clearest of terms to you that the men in The Fry, or at least some of them, were drunk, aggressive and shouting vile racist abuse at the Asian men – 'Come on you P*ki bastards' and other similarly offensive phrases. Not exactly original but certainly offensive. They were, you may think, out to cause trouble and, when the opportunity presented itself, they took it.
"But they got rather more than they bargained for here, and fairly quickly, because they became significantly outnumbered by a great many men, many of whom were on the way home from the counter-protest.
"Having started the trouble, as often happens in these sorts of circumstances, they found themselves in serious trouble themselves and on the receiving end of something that they started."
O'Shea said the 10 men on trial were part of the group of Asian men. Those from the "other side" will go on trial at a later date, he told the jury.
He said: "All of them (the defendants) suggest that whatever it was that they did was in reasonable self-defence in respect of themselves as individuals, defence of another person or persons."
The trial continues.
The 10 defendants:
Asif Zaman, 47, of Wellgate Mount, Rotherham;
Mohammed Saleem, 43, of Mount Street, Rotherham;
Arshad Khan, 44, of Wellgate Mount, Rotherham;
Abrar Javid, 37, of St Johns Road, Rotherham;
Imran Iqbal, 29, of Clough Road, Rotherham;
Nasrum Rashid, 21, of Fraser Road, Rotherham;
Moshin Mahmood, of James Street, Rotherham;
Sadaqat Ali, 39, of Milton Road, Rotherham;
Shaban Ditta, 31, of Cambridge Crescent,Rotherham;
and Akaash Nazir, 21, of Cow Rakes Lane, Rotherham.
All deny violent disorder, while Zaman also denies a further charge of possession of an offensive weapon.
The jury was told that two other men have already admitted violent disorder.