Roy Keane is taking on Paddy Power at the high court after the controversial Irish bookmaker plastered the former Manchester United captain's face on a poster depicting Mel Gibson from the film Braveheart.
The Republic of Ireland assistant manager is aggrieved Paddy Power infringed his image rights on the advert, which was promoting odds for the Republic of Ireland vs Scotland Euro 2016 qualifier at Dublin's Aviva stadium.
The billboard, which was pulled by a lorry, showed Keane as Gibson's portrayal of William Wallace with the words: "You may take our points but at least we have our freedom (ya wee pussies)" printed on it.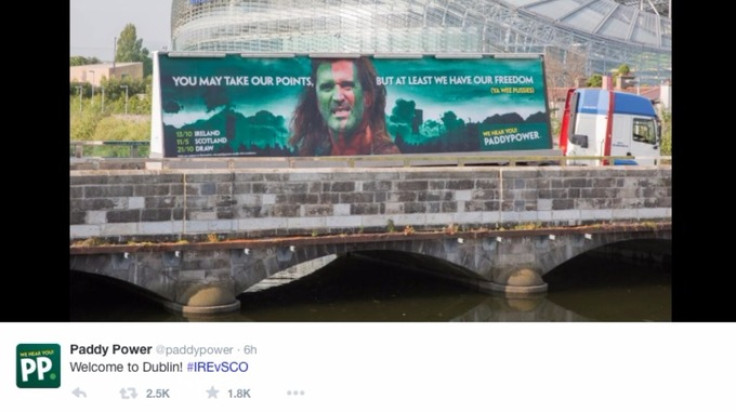 Keane's lawyers filed papers with the Dublin high court on Monday (6 July) but no date has been set for the hearing.
"Roy Keane has taken legal action against us following his face appearing on our Braveheart billboard ahead of the Ireland Scotland game, it's with the lawyers so obviously we can't talk about it, but hopefully they won't take our freedom to have a bit of craic," Paddy Power spokesman said.
The poster is by no means the first time Paddy Power has stirred controversy. Last year, it was forced to remove an advert for its market on the outcome of the Oscar Pistorius trial, which offered "'money back if he walks".
A TV ad featuring a blind footballer kicking a cat also saw thousands of complaints to the Advertising Standards Agency.