The Duke and Duchess of Cambridge are making headlines during their royal visit to India, having mingled with top Bollywood stars at a charity event on 10 April. Video footage has now emerged of what appears to be Bollywood actor Shah Rukh Khan's welcome speech for the British royals.
During his speech, Khan pointed out that his relationship with Britain has become "even closer" as his children now study in the country. He went on to wish Prince William and Kate Middleton a successful visit, before joking that he was going to "get drunk and dance" for them but was warned by the British Council to behave.
Khan said: "I read Her Royal Highness say, 'I don't know if I have a favourite colour.' I just want to assure you, Your Royal Highness, even though your stay is extremely short here in India, you will go back finding more than one favourite colour from this country. India, if nothing else, is the most colourful and the warmest of the nations that you will ever visit in your life."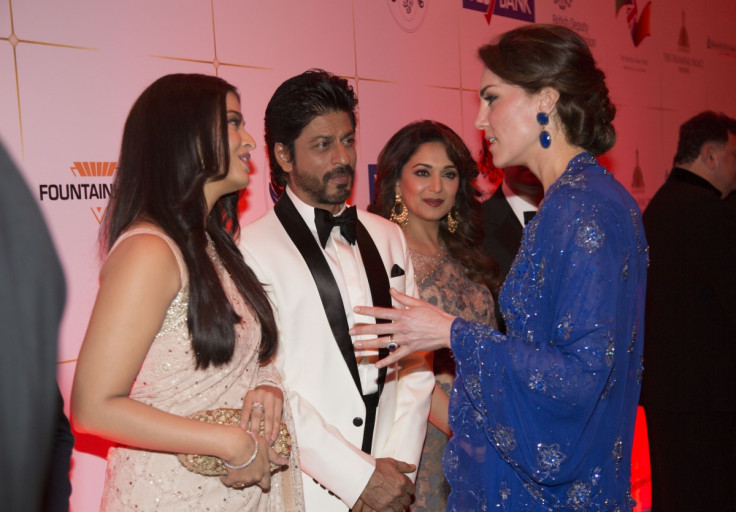 Other Bollywood celebrities such as Aishwarya Rai Bachchan, Madhuri Dixit, Farhan Akhtar and Sonam Kapoor were also in attendance. Khan later took to Twitter to commend the Royal couple for being "gracious and full of poise".
Videos posted online by Kensington Palace showed snippets of a Bollywood performance that was organised for the royal couple during the charity event. The Duke of Cambridge then concluded the gala by saying a few words on stage:
"When Catherine and I were married, India was the first place on Catherine's list that she told me that she wanted to visit. Two children and five years later, we have finally made it – and we are both honoured to be here."