More than a tonne of cocaine with a UK street value of £60m has been seized in a joint mission by the Royal Navy and US Coast Guard.
The operation involved a crew from the Navy's Wave Knight and a US Coast Guard helicopter, who together forced a speedboat to stop in international waters south of the Dominican Republic.
The helicopter crew first fired warning shots to stop the suspect vessel but when its occupants threw bales overboard, the guns were turned on the drug boat itself.
The Wave Knight launched a interception boat with a US Coast Guard team on board to apprehend the suspects.
A second law enforcement crew recovered 45 bales of cocaine which had been thrown from the speedboat.
Approximately 1.25 tonnes of cocaine was seized and four people were handed over to the US authorities off the coast of Puerto Rico.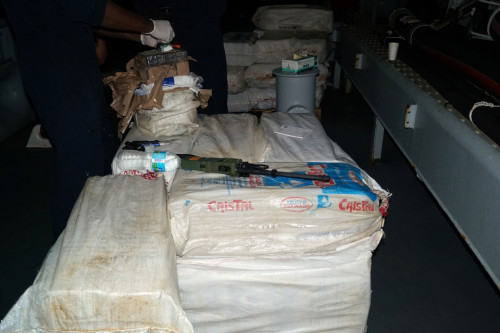 British defence secretary Philip Hammond said: "Once again the Royal Navy has played a key role in the international mission to tackle the drugs trade from the Caribbean.
"The crew of RFA Wave Knight should be proud of their role in seizing such a massive amount of drugs, made more impressive as it is their second successful operation within a month."
The success came after Wave Knight seized marijuana in an operation at Christmas.
The ship is deployed in support of Operation Martillo, a 15-nation collaboration which patrols air and maritime routes to the Central American coastline and disrupts the movement of drugs from South America to the Caribbean and onwards to the UK.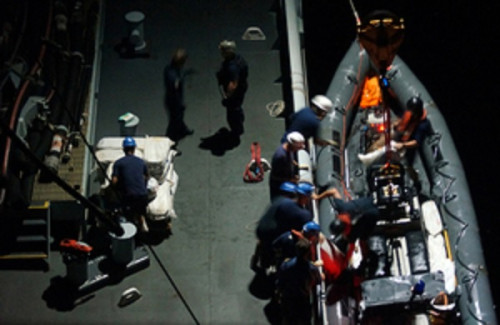 Capt Duncan Lamb, commanding officer of RFA Wave Knight, said: "RFA Wave Knight, working seamlessly with the US Coast Guard, has demonstrated her capability and resolve to disrupt the illicit drug trade. On this occasion, a significant amount of Class A drugs has been stopped from reaching the streets of the UK and USA."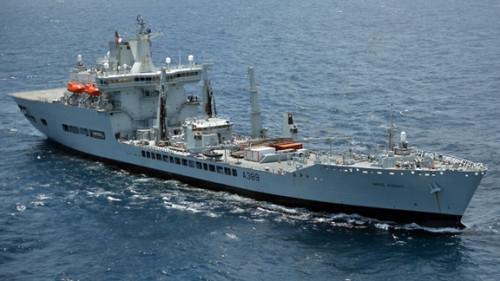 Things to know about the Wave Knight:
RFA Wave Knight (A389) is a Wave Knight-class fast fleet tanker of the Royal Fleet Auxiliary
She was launched in 2000 and accepted into service in 2003 and is the second ship to bear this name in RFA service
Wave Knight and her sister, Wave Ruler, replaced the elderly Olna and Olwen,which were built in the 1960s
The vessel is able to operate in support of amphibious forces, anti-surface and anti-submarine warfare operations and protection of vital sea areas and shipping.