An author has described the Queen as "distinctly lower class" and claims her corgis have "stubby legs" – and some royalists aren't best pleased.
Writer Zadie Smith has made the controversial comments about Her Majesty in an article for Vogue. The 42-year-old author of Swing Time wrote against the monarchy in her piece, calling the 91-year-old royal "suburban".
She said: "She appears, in our mental picture of her, as distinctly lower middle-class.
"I think this is what accounts for her relative popularity, as compared to her clan – that touch of Mrs Windsor."
Smith also didn't hold back when it came to the Queen's innocent pet dogs, stating that her corgis had "squat" bodies and "stubby legs".
She then claimed that King Charles spaniels would be a better choice of pet dog for someone of the Queen's stature.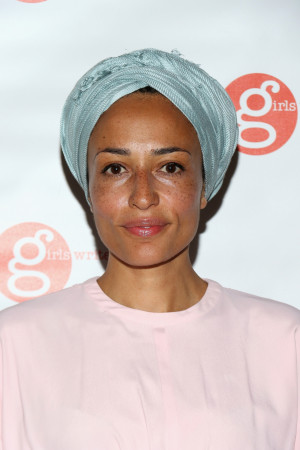 Bashing Britian's longest-reigning monarch without any qualms, Smith continued: "To put it in lower-middle-class terms, she found 'what suited her' and 'she stuck to it', a sentiment as familiar to British women up and down the nation as its aesthetic twin: 'I don't know a lot about art but I know what I like.'"
She criticised Her Majesty's speaking voice as the kind "your mum puts on when someone important is on the phone".
The writer – from north west London – had better things to say about the Queen's grandsons, Princes William and Harry, claiming they are "recognisable aristocratic types". This was followed by another dig at the Queen, stating she has more of a "common touch".
Smith supported her bizarre claims with the Queen's apparent preferred television programmes of EastEnders and The Bill, which are "telling".
She added: "Did ever a monarch seem more likely to prefer a nice flowery pelmet curtain to a white wooden shutter?
"Or a staycation in front of the telly to a glamorous Tuscan retreat or Caribbean break?"
She did have the odd good thing to say about the Queen, explaining that she was "moved" by her support for the victims of Grenfell Tower.
She said: "Republican that I am, I was not unmoved to see the Queen appear at Grenfell.
"In better times it might be easy to sneer, but when a technocratic, coolly calculated political figure shies away from the benighted people she claims to lead, you can see how even a purely symbolic figure will be warmly received."
People have reacted to Smith's comments on Twitter, with royal commentator Dickie Aribter writing: "Zadie Smith bashes The Queen in the first edition of Vogue under its new editor. Is what Ms Smith thinks important? Not really for as likely when she reaches 91, unlike HM, people will say Zadie who?"
Another reader added: "Zadie Smith writing for Vogue...as it too moves Left, craving validation. Another small ( tiny ) step towards left wing cultural domination".
Smith, who is married to Northern Irish novelist and poet Nick Laird, published her fifth novel Swing Time in November 2016. It was long-listed for the Man Booker Prize 2017.