Police have identified the 19-year-old suspect in the Russell Square knife attack as Zakaria Bulhan from south London. Police arrested the Norwegian national, who is of Somali origin at the scene of the crime in central London on Wednesday night (3 August). An American woman named as Darlene Horton was killed and five others were injured.
After investigators searched the 19-year-old's home and questioned his family, police confirmed there is no evidence of radicalisation, adding that the teenager is believed to suffer from mental health problems and that the incident was a "spontaneous attack". The "victims were selected at random", according to Metropolitan Police Assistant Commissioner Mark Rowley.
Rowley said: "Whilst the investigation is not yet complete, all of the work we have done so far increasingly points to this tragic incident having been triggered by mental health issues."
On 3 August at around 10.30pm BST, police responded to reports of an armed man attacking passers-by on Russell Square. Bulhan was taken out by a Taser and arrested on suspicion of murder.
An eyewitness named as Fernando, from Brazil, told Sky News he saw a Spanish family providing assistance to the victims, including a woman in her 60s who suffered a fatal stab wound to her back.
"She had her head in a Spanish woman's lap, the lady, who was trying to keep her alive by talking to her," he said. "The lady from the Spanish family told me that the guy had passed by, running, stabbing people. They said he had been wearing black shorts and a white t-shirt and was chubby. Apparently he wasn't shouting anything."
The unnamed woman – an American national – died in the attack while four others including a British man, an American man, an Australian man, an Australian woman and an Israeli woman were injured and needed hospital treatment. Their injuries were not life threatening and they have since been discharged.
The suspect also received treatment in hospital and is now in police custody in south London.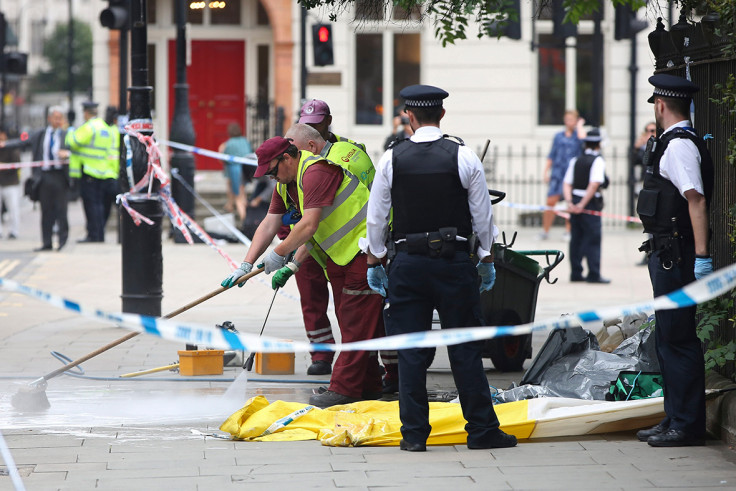 London Mayor Sadiq Khan praised the police for their swift action in containing the situation as he reassured the public that "London is safe."
"London is no less safe today than it has been in the recent past. The police have been working their socks off since the first call was made to the police. There is no evidence at all that this man was motivated as a consequence of Daesh [Islamic State] or similar sorts ... of groups. It does appear to be somebody who had mental mental health problems, according to the police."
Rowley said there would be an increased police presence in London to provide reassurance to the public.
Anyone with information about the Russell Square attack is asked to contact police on 101 or call Crimestoppers anonymously on 0800 555 111.