Athletes and tourists at the 2014 Sochi Winter Olympic Games in Russia could still be arrested under the country's new 'anti-gay' laws despite government reassurances.
Vitaly Milonov, co-sponsor of the 'non-traditional relationships' legislation bill, said the Russian government cannot decide to temporarily suspend a bill once it has been passed.
Milonov was speaking after the International Olympic Committee IOC said the Russian government had assured them that those going to the 2014 Games will be safe from prosecution.
The controversial new law recently passed in Russia forbids spreading "propaganda of non-traditional sexual orientation" towards children.
The law also bans gay rallies and makes it an offence to suggest that gay relationships are equal to "traditional", or heterosexual ones.
In an interview with Interfax news agency, Milonov said: "I haven't heard any comments from the government of the Russian Federation, but I know that it is acting in accordance with Russian law.
"And if a law has been approved by the federal legislature and signed by the president, then the government has no right to suspend it. It doesn't have the authority."
His comments came after the IOC released a statement on 17 July which said: "The International Olympic Committee is clear that sport is a human right and should be available to all regardless of race, sex or sexual orientation.
"The Games themselves should be open to all, free of discrimination, and that applies to spectators, officials, media and of course athletes.
"We would oppose in the strongest terms any move that would jeopardise this principle."
The 'gay propaganda' bill was passed into law by President Vladimir Putin in June. Under the new law, fines can be imposed on those who provide information to minors about the homosexual, lesbian, bisexual and transgender communities.
Public displays of affection or activities regarded as counter to the law may also lead to fines, arrests and deportations.
Recent gay pride events in the country have resulted in violent clashes between anti-gay protesters and gay rights activists.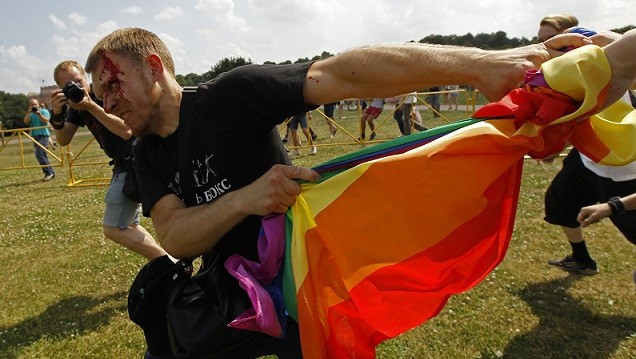 The law has caused outrage in the LGBT community both in Russia and abroad. Many gay bars and clubs around the world are refusing to sell Russian vodka in protest of the bill. Thousands of people have also signed an e-petition urging the British Olympic Association to boycott the 2014 Games.
Gay US figure-skater Johnny Weir previously dismissed talk of a boycott, saying athletes who have "dedicated their lives to possibly having their lone life-changing moment" will be the ones who suffer the most.
Four Dutch tourists shooting a film about gay rights in Russia recently became the first foreigners to be arrested under the country's 'gay propaganda' law.
The Sochi 2014 Winter Olympics will be held from 7 - 23 February.