Russia State TV Uses Parody Video to Show Norwegian Child 'Gay Propaganda'
Fake commercial uses Team Fortress 2 fan art to illustrate 'degeneration' of values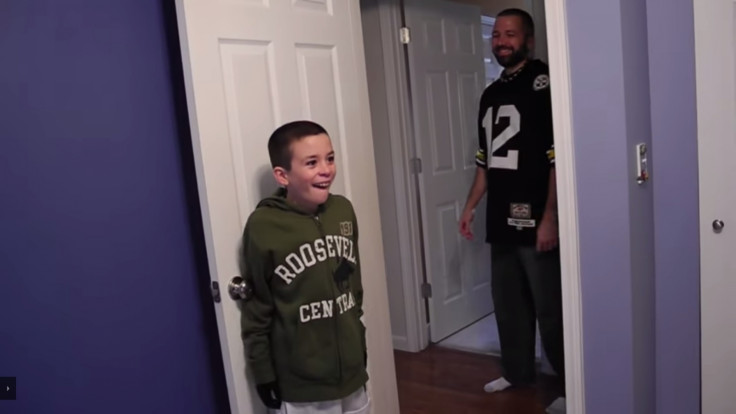 Russia's Channel One has used an amateur parody video of a US TV ad to criticise the "blatant gay propaganda" targeting children in the Norway.
The state-TV channel aired a fake version of a commercial run by Fathead, a US company that produces officially licensed life-size wall graphics of athletes, logos, stadiums and films characters for children.
For its TV ad, Fathead used an amateur clip filmed and posted on YouTube by parents of a boy from St Louis on the day of his birthday.
In the video, the boy walks into his bedroom to find to his big surprise his wall painted with a giant vinyl sticker of monster truck. He is so overwhelmed by happiness that he cries, "Oh my God! No way!" before bursting into tears of joy.
The advertising became very popular over the years and was parodied in several versions.
One of these clips features homoerotic gamer fan art of popular video game Team Fortress 2. The character Sniper is showed naked and in a gay sex scene.
Channel One lifted the gamer fan art video and broadcasted it during Special Correspondent programme on 28 November to illustrate the "degeneration" of morals in the Norway.
The voiceover says: "Erosion of morals generated overseas, erosions of institution of marriage. Europe obediently takes the example of the United States. Is this how children should look like?"
The Russian programme exploits widespread anti-gay prejudice which has found its expression in the controversial anti-gay propaganda law.
The bill, introduced in June, bans the promotion of non-traditional relationship to minors and prescribes heavy fines for anyone providing information about homosexuality to under 18s.
An upsurge in gay hate crimes has been reported since with nationalist gangs such as Occupy Gerontophilia and Occupy Paedophilia encouraging homophobes to use social media such as VKontakte to lure young gay people into traps and humiliate them on camera with beatings, torture and abuse.
One piece of footage shows youths being forced to drink urine or having it poured over their heads. Another shows young men being mocked with dildos, threatened with axes and forced to carry wooden crucifixes. The clips are posted on the Russian Facebook equivalent.
It is not the first time that Channel One uses fake clips and images from gamer fan art for its anti-Western propaganda purposes. In September, it took an online fan art poster of Team Fortress 2 in its historical programme "World War I" to "explain" US military state propaganda during the Great War.
© Copyright IBTimes 2023. All rights reserved.