Russian plane crash: Egyptian authorities suspend flights taking Brits home from Sharm el-Sheikh airport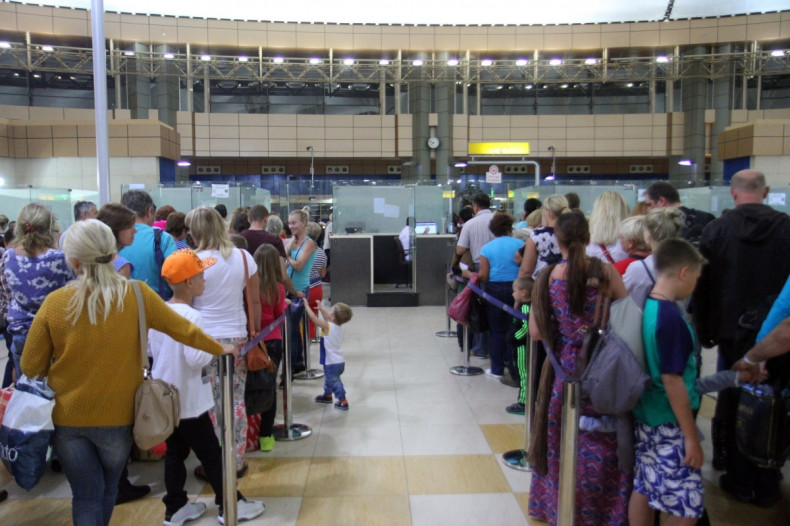 EasyJet has said it has been forced to cancel several of its flights due to take stranded British tourists home from Sharm el-Sheikh airport after they were suspended by the Egyptian authorities. Thousands of holidaymakers have been holed up in the Egyptian airport after a Russian plane crashed on 31 October, and fears grow that it may have been caused by a bomb.
The British government suspended all flights to and from the airport as a precaution, but a deal was reached with Egyptian authorities after they put on "new package of airport security measures" that allowed some to return home but without their hold luggage.
However, EasyJet has now said they have been forced to suspend eight of their rescue flights for some of the remaining tourists and the situation is "outside of their control".
A spokesperson said: "The Egyptian authorities have currently suspended UK airlines from flying into Sharm El Sheikh, which means that our flights will not now operate today [6 November]. We are working with the UK government at the highest level on a solution.
"In the meantime, we are also developing a contingency plan so we can bring our customers home as early as possible, once we get permission to fly. We understand this is extremely frustrating, but we are asking customers to stay in their hotels and if they are currently planned to be checked out in the next 48 hours, to try and extend their stay for an additional two days."
Cancelled flights
EZY9555 − Sharm el Sheikh to London Luton
EZY9444 − Sharm el Sheikh to London Gatwick
EZY9333 − Sharm el Sheikh to London Luton
EZY9111 − Sharm el Sheikh to London Gatwick
EZY9222 − Sharm el Sheikh to Milan Malpensa
EZY9666 − Sharm el Sheikh to London Stansted
EZY2398 − Sharm el Sheikh to London Luton
EZY8854 − Sharm el Sheikh to London Gatwick
The company confirmed that two flights to Luton and Gatwick will be departing from Sharm el Sheikh despite earlier delays, due to "congestion within the terminal building in addition to additional security procedures in place".
A Downing Street spokesperson said: "Our utmost priority is to make sure we have all the right measures in place to ensure that British citizens can return safely to the UK.
"The prime minister held talks on the situation with President Sisi earlier and, following further discussions with the airlines and the Egyptians, we have agreed on a package of additional security measures that is being put in place rapidly. Consequently the government has decided, in consultation with the airlines, that flights from Sharm to the UK will resume [on 6 November].
"We advise British nationals in Sharm to check with their airline or tour operator on their travel plans. The additional security measures will include permitting passengers to carry hand baggage only and transporting hold luggage separately. We are working with the airlines to ensure there are suitable arrangements in place to reunite passengers with their belongings as soon as possible.
"Outbound flights from the UK to Sharm el-Sheikh remain suspended and the Foreign Office continues to advise against all but essential travel by air to or from Sharm el Sheikh airport, but we are continuing to work with the Egyptians to get back to normal service as soon as possible."