Britons stranded at Sharm el-Sheikh to start flying home Friday after airport security deal agreed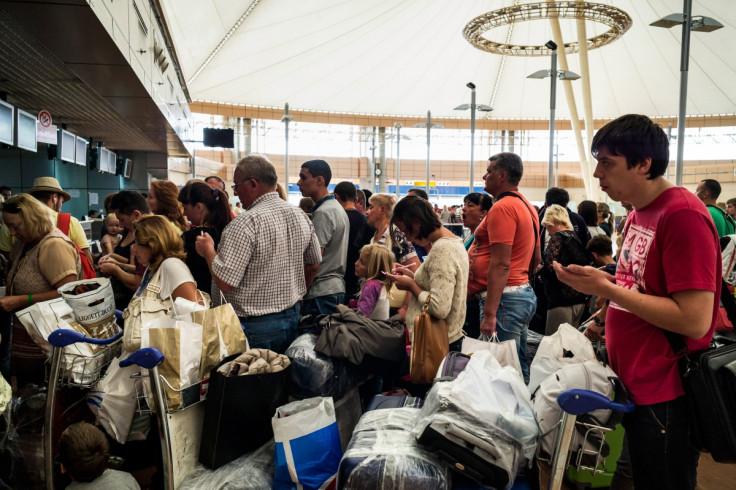 The UK government has finally reached a deal with the Egyptian authorities on putting in place a "new package of airport security measures" that will now allow Britons stranded at Sharm el-Sheikh to return home from Friday (6 November). Flights to the popular tourist destination from the UK however remain suspended.
In a statement issued overnight, a Downing Street spokesman said following talks with visiting Egyptian President Abdel Fattah el-Sisi on Thursday (5 November) and further discussions with both airlines involved and the Egyptians, a "package of additional security measures are being put in place rapidly." The spokesman added: "Consequently the government has decided, in consultation with the airlines, that flights from Sharm to the UK will resume tomorrow [ 6 November]"
The additional security measures put in place will allow only hand luggage to be taken on board by passengers. Hold luggage will be transported separately, the spokesman said. "We are working with the airlines to ensure there are suitable arrangements in place to re-unite passengers with their belongings as soon as possible."
The spokesman confirmed that outbound flights from the UK to Sharm el-Sheikh remain suspended. The Foreign Office continues to advise against all but essential travel by air to or from the Sharm el-Sheikh airport. "But we are continuing to work with the Egyptians to get back to normal service as soon as possible."
The formal announcement from 10 Downing Street came after it was confirmed that Thomson Airways, easyJet and Monach will operate more than 20 flights today to bring back British tourists currently stranded there. The UK suspended all flights to and fro the Egyptian tourist destination on concerns that the Russian aircraft that crashed in the Sinai peninsula could have been brought down by a bomb.
The Downing Street spokesman advised British nationals in Sharm el-Sheikh to check with their airlines or tour operators on their travel plans.
© Copyright IBTimes 2023. All rights reserved.