6 April 1994 is the date that changed Rwanda forever.
That day - following the assassination of then President Juvénal Habyarimana, from Hutu origins- thousands of Hutus took up their machetes and knocked on every door of every village with the aim of exterminating Tutsis, accused of conspiracies against the Hutu government.
Few hours after Habyarimana's death, an uncontainable homicidal fury exploded in the country.
Between 800,000 and 1 million people were slaughtered in three months.
Tutsis and moderate Hutus were massacred at the rate of one homicide every ten seconds, accused of having usurped the country, which had never belonged to them.
Twenty years after one of the worst genocides in history, survivors' sufferings still echo among the country's thousands of emerald hills. What is worse, however, is that money set aside to help survivors to rebuild their lives ... has disappeared.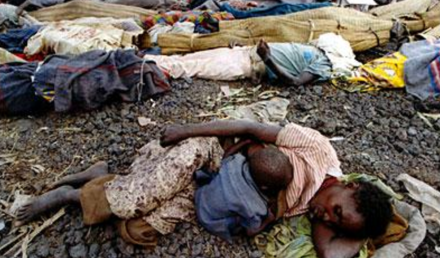 Almost £1m is alleged to have been stolen from the Fund for Genocide Survivors (Farg) , freelance journalist Fulvio Beltrami wrote in newspaper Indro.
The fund was set up in 1998 to offer financial assistance to survivors through programs of economic reintegration, support of private trade initiatives, and the construction of houses.
Of the 21.9 billion Rwandan Francs (£ 19,5) spent on assistance to survivors, 594.6m Rwandan Francs (£528,663) are unaccounted for;
£260,413 meant for income generating projects cannot be accounted for;
2800 beneficiaries are still without a home , even though their names might show up in the registers of housing already built and entrusted to survivors;
5,709 houses have not been completed yet, or have been allocated to beneficiaries who are not survivors of the genocide, but belong to the Burundian, Congolese and Ugandan diasporas who returned to Rwanda after 1994;
£75953 was diverted into activities not related to what it was initially meant for;
£115,739 is missing from the accounts of the Fund.
Fulvio Beltrami
"The fraud had been going on for four years. President Paul Kagame [current Rwanda's president] has imposed silence on the the press at national level," Beltrami told IBTimes UK.
Rwanda's Minister of State for Local Government Alivera Mukabaramba said the financial report was exaggerated: "I will not discuss whether the funds for the survivors of the genocide were poorly used or not. I insist that we should wait for more accurate financial reports before drawing conclusions. "
Twenty years after a terrible massacre which was televised worldwide, the injustices against Rwandans seem hard to be eradicated.
Not only does the scandal undermine celebrations of the genocide's anniversary and the efforts so far made ​​by the government to assist the survivors, but it also carries considerable political implications.
As Beltrami concluded, the fraud is likely to strengthen the anti-government campaigns as well as the position of Rwandan terrorist group Democratic Forces for the Liberation of Rwanda (FLDR) which operates in eastern Democratic Republic of Congo, and plans to invade Rwanda to " finish the job " of killing the surviving Tutsis.
You can find Beltrami's original article here.