The Rwandan government has signed a deal with a US company to deploy the first ever autonomous system in the world for delivering blood bags for emergency transfusions via drones.
US robotics firm Zipline has developed a system whereby unmanned aerial vehicles (UAV) can autonomously be sent to the health facilities in rural communities to deliver blood products and other essential medical supplies. Apart from supplying the UAVs, the firm will also build three "drone ports" that will be set up in the Muhanga District in Southern Rwanda.
According to Keller Rinaudo, the CEO of Zipline International Inc (formerly Romotive), the cost of sending a drone out with a package of essential medical supplies is far cheaper than sending out a man on a motorbike. "We believe that using cutting edge technology to allow supply chains to operate independently of existing infrastructure represents a huge opportunity for our country," Rwanda's Minister of Youth and ICT, Jean Philbert Nsengimana said.
"This is one of the many initiatives that our government is putting in place in line with the Smart Rwanda Master Plan 2020 which was recently approved by the Government of Rwanda".
Tests for the new Zipline drone delivery system will commence in August, and the Rwandan government is also partnering with Redline Foundation, a Swiss-based charitable organisation, to build a bigger system called Droneport where large cargo UAVs carry supplies from central ports to various parts of the country.
The rise of drone deliveries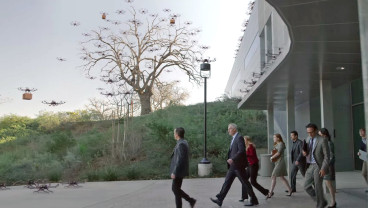 Although progress is slow, more governments are slowly warming to the idea of using drones for deliveries, but it is still highly unlikely that any government will permit masses of drones delivering Amazon packages on a daily basis.
In July 2015, the US Federal Aviation Administration (FAA) finally approved the first ever drone delivery service by allowing Australian UAV startup Flirtey to deliver packages of medical supplies to a rural coal mining region in Wise County, Southwest Virginia, while in September 2014, Germany gave DHL permission to run a trial delivering medication to the remote German island of Juist in the North Sea.
And according to Market Watch magazine, a drone startup called Matternet has already been operating drone deliveries of medical supplies and specimens in a wide number of countries including Switzerland, Haiti and the Dominican Republic since 2011.
The startup says that particularly in emergency situations with organisations like Unicef and Doctors without Borders, often regulatory hurdles are overcome quickly due to the urgency of the situation and the difficulty of getting supplies to rural and disaster-hit locations.
"It's much more cost, energy and time-efficient to send [a blood sample] via drone, rather than send it in a two-ton car down the highway with a person inside to bring it to a different lab for testing," said Andreas Raptopoulos, founder and CEO of Matternet.