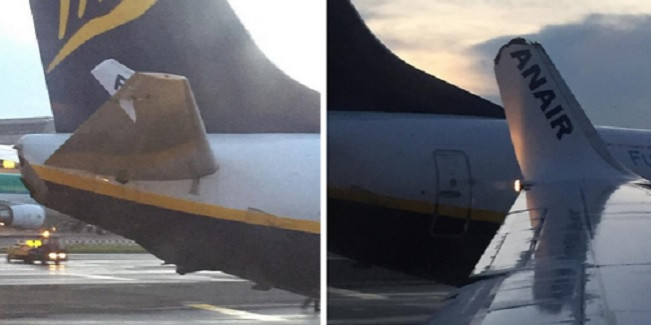 Ryanair has issued an apology after two planes collided at Dublin Airport on the morning of 7 October, 2014.
No one was injured on board as the wingtips of the aircraft hit each other while taxiing towards the runway.
As in the pictures above, the winglet tip of one plane's wings was ripped off, becoming lodged in the the rear horizontal stabiliser of the other plane.
Emergency services attended and flights were temporarily grounded. Dublin Airport is now fully operational but minor delays are to be expected following the incident.
"Two of our aircraft were taxiing slowly to the runway at Dublin Airport this morning," said Ryanair in a statement.
"The winglet of one aircraft appears to have scraped the tail of the other. There was no impact on customers on board.
"Ryanair has contacted the Irish Aviation Authority and is working with them to return both aircraft to stand and allow normal operations at Dublin Airport to resume.
"Ryanair apologises sincerely to customers for any inconvenience."
The IAA confirmed it was investigating the incident involving the aircraft.
"The Air Accident Investigation Unit (AAIU) of the Department of Transport, Tourism and Sport has been notified and will conduct a further investigation," said a spokesman.
"Dublin Airport is now fully operational, although passengers may anticipate some delays as a result of this morning's incident and are asked to check with their airlines directly for further information."