A group of alleged smugglers has been arrested trying to bring in a record 1.4 tonnes of cocaine, worth £192m (€223m, $239m), into Australia using a sailing yacht.
Police say the smugglers met a "mothership" in international waters last month and were intercepted about 230 miles (370km) off the New South Wales coast on Thursday night (2 February).
"This is the largest cocaine haul ever seized in a single operation in Australia's history," said immigration minister Peter Dutton.
Six men have been arrested on drug offences, including two veteran sailors found on the boat.
The pair were named in local media as Hamish Thompson, a 63-year-old from New Zealand, and 54-year-old Swiss-Fijian dual-national Valentino Fries.
Fries, who runs a Fiji-based yacht "safari" company, was said by his wife to have been duped by his captain, Thompson, into transporting the cocaine when he suddenly changed course while at sea.
"He would never, never do anything like that. No amount of money would make him do that," she told the Sydney Morning Herald.
Three other members of the alleged smuggling gang – David Wren, 66, Kevin Michael Geraghty, 63, and Glen James Willcox, 62 – were arrested in St Georges Basin, while a fourth man named Yahay Magdalawi, 32, was also detained.
They could all face life in prison if convicted.
Investigators say the plan involved some of the gang using a motorboat to meet the sailing yacht out at sea, before taking the drugs on shore.
The raid was the culmination of a two-and-a-half year investigation triggered by a tip-off from New Zealand customs, Australian Border Force said.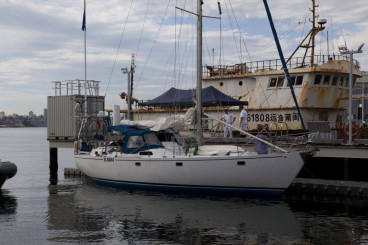 "We hope that this operation sends a strong message to anyone thinking of smuggling drugs: no matter how innovative or complex their ways are, our evolving detection methods and resources, including at sea, will keep up with them," said Michael Outram, deputy commissioner of operations at Australian Border Force.
The yacht – named Elakha – was seen being escorted into port with its two occupants surrounded by law enforcement officials.
Large black bags containing numerous blocks of what investigators said had tested positive for cocaine were then seen being unloaded by police.
It comes after another record-breaking drug bust by Australia police in December saw 1.1 tonnes of cocaine seized in Tahiti and Sydney – said to be destined for New South Wales.
Australia has become a lucrative market for drug gangs, with the value of cocaine nine times higher than that of the United States.