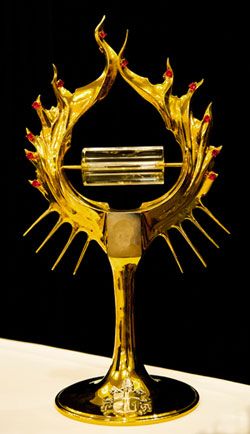 A vial containing the late Pope John Paul II's blood is going on tour on the United States' east coast.
The relic, which is usually hosted in the Saint John Paul II National Shrine in Washington DC, will be shown for public veneration at Holy Cross Cathedral in Boston next weekend. It will also be on display to worshippers in New York City and Philadelphia, and ending in Baltimore
"We are grateful to the Knights of Columbus and Saint John Paul II National Shrine for making it possible for people of faith to pray before the relic of Saint John Paul II," Cardinal Seán O'Malley said, according to CBS.
"He meant so much to the people of the Archdiocese of Boston and around the world enlivening in them the presence of God's grace and love. We pray that those who come to the Cathedral of the Holy Cross this weekend will be inspired to carry out great works of mercy through evangelisation as the Holy Father exemplified during his years as Pope and priest."
The reliquary is formed by a glass ampoule that contains the late Pope's blood, which remains in liquid state. Encircling the relic is a nimbus decorated with 12 red stones representing the Twelve Apostles and with rays projecting downward. It was crafted by Wiesław Domański, a member of Saint Brother Albert Council 14332 in Lublin.
One relic of the Polish pope was stolen from a small church in central Italy this January, along with a cross, and quickly recovered by Italian police. Speculation that the theft was carried out by a "Satanic" group began circulating when the burglary was reported at the remote Church of St Peter of Ienca. Several objects were reported missing, including a gold and glass container which held a bloodstained fragment of cloth worn by Pope John Paul II when he was hit by a would-be assassin's bullet in St Peter's Square in 1981.
John Paul was declared saint along with late Italian pontiff Pope John XXIII during a massive canonisation ceremony in St Peters' Square, Rome in April.