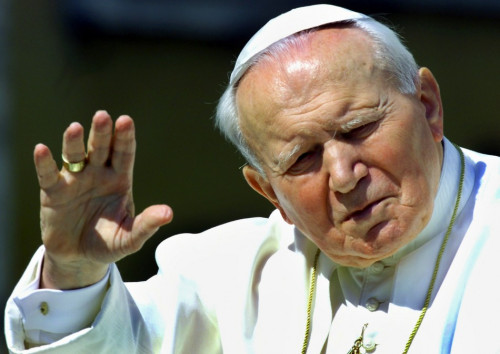 A vial containing the late Pope John Paul II's blood has been stolen from a small church in central Italy along with a cross, according to reports.
More than 50 Carabinieri, the national military police of Italy, are involved in a manhunt along with sniffer dogs around the church of St Peter of the Ienca, near Aquila, in the mountainous Abruzzo region.
The tube contained bloodied clothing from the botched assassination attempt on the Pope in 1980 - 25 years before he died.
The Polish pope loved to go on skiing holidays in the mountainous Abruzzo region and once took refuge in the church.
According to the Osservatorio Antiplagio, a watchdog on media scams, the vial theft could be related to Satanism.
The Polish pope's blood was stolen on the day "that corresponds to the dominium of the demon Volac", said the group.
"Another factor is International Holocaust Remembrance Day, which prompts satanic rituals in preparation for the Satan's birthday on 1 February," it said.
John Paul II and the Italian pope John XXIII are set to become saints in a ceremony at the Vatican in April.