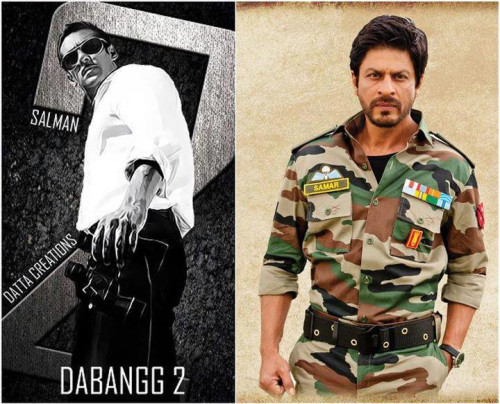 Bollywood rivals Shahrukh Khan and Salman Khan seem to be making good progress in fixing their once-gone-sour friendship. At the Star Guild Awards 2014 held in Mumbai, the two stars put their differences aside and hugged each other, much to the shutterbugs' delight.
Shahrukh Khan won the Entertainer Of The Year Award For Chennai Express. As Deepika Padukone announced SRK's name and he started to walk up on stage, everyone froze as they all wanted to know what would happen once the two estranged stars would come face to face, according to a Business of Cinema report.
Salman who was on stage hosting the awards show made the first move and went on to congratulate his peer. SRK immediately acknowledged Salman's compliment and responded with equal warmth.
"It feels special to get this award in the company of Salman who is one of the greatest entertainers the country has seen," he said as he accepted the award.
But the real kicker came when Salman asked the Chennai Express star to say Jai Ho (title of the former's upcoming film) clearly as a way to promote his film through Shahrukh Khan on a big public platform. Reportedly, SRK did so by raising his hand in response.
Salman also credited Shahrukh to have started the trend for Bollywood actors to host award shows. However, he also said that performing at the event is something he (Salman) prefers than actually hosting it.
The other trend that now seems to be catching on, thanks to the Khans, is the concept of mutual promotions for their respective films. Salman Khan promoted Aamir Khan's Dhoom 3 in a big way (through the popular reality show Bigg Boss 7) and Aamir seems to be now returning the favour by regularly tweeting about Jai Ho.