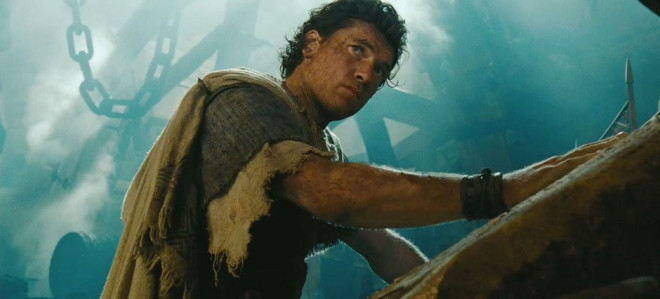 Avatar actor Sam Worthington was arrested on an assault charge in New York City after he punched a paparazzo Sunday evening.
Reportedly Worthington, 37, attacked the photographer at the Cubbyhole bar in Manhattan after the man kicked his partner Lara Bingle, 26, in the shin.
Eyewitnesses saw the Australian actor being taken into custody following the incident.
Just saw Sam worthington and Sara bingle get in physical fight with paparazzi outside cubby hole... Cops just got here

— Harrison Jobe (@harrisonjobe) February 23, 2014
Just saw Sam Worthington get arrested. Hashtag New York moment. — Emma (@eemmmmaa) February 23, 2014
New York Police Department Lieutenant John Grimpel confirmed Worthington's arrest on Monday, reports Daily Mail.
Grimpel told the Daily Telegraph, "It happened at 5.30pm this evening. The photographer kicked Lara and then Worthington punched him causing the photographer to have lacerations to his nose."
Police did not reveal the reason behind the scuffle. The photographer, 37-year-old Sheng Li, was also arrested on charges of reckless endangerment, assault and harassment, reports Hindustan Times.
According to Daily Mail, during the brawl, Worthington referred to Bingle as his 'wife', yelling at the photographer, "you kicked my wife."
However, a friend of Bingle told MailOnline on Monday: "He would have been speaking figuratively. They are definitely not married, as far as I know."
As per Daily Mail, several reports earlier this year suggested that the couple secretly married in Western Australia ahead of a romantic trip to the Maldives. They have also been spotted wearing matching rings on their wedding fingers.
Worthington was released on bail after being charged and will appear in court on February 26.
This is apparently not the first time Worthington's been involved in a brawl with a photographer. He was arrested and pepper sprayed in Atlanta in 2012, following an argument outside of a restaurant.